Sponsored by
Artificial intelligence (AI) and Internet of Things (IoT) have made great strides across many aspects of modern life, changing what we think possible in fields such as finance, scientific research, and data analytics. As our physical world converges with our digital world, with most aspects of our environment represented through data, the next frontier opens up new opportunities to innovate products and services to increase the efficiency of operations by using AI to capture and use insights in more meaningful ways.
Hitachi Vantara's leading industrial expertise, coupled with their technology-agnostic approach to identifying value at scale notably places them at the forefront of this data-led revolution. By combing real-time data, AI, and sensor technologies, Hitachi has enabled the modernization of businesses, from shops and factories to trains, airports, transit agencies, other public modes of transportation, and just about everything in between. Interest in blending the physical and digital worlds has become a business imperative in recent years, as businesses across all sectors have begun to grapple with the increasingly complex demands of customers in an ever evolving and interconnected world. But AI technologies have been in use for up to 15 years now, so why the sudden boom in interest now?
The answer lies in the advancements seen in both AI and sensor technologies that have enabled the integration of multiple applications, creating a more affordable and sustainable approach to deploying IoT applications, regardless of the size or digital maturity of the business.
Supercomputers can be accessed by a small retail vendor with a subscription to a cloud computing service. Firms in data-sensitive markets can employ graphics cards with enormous computational power on-site. Sensor technologies are inexpensive compared to the value they offer, and cloud computing makes it easier to store huge volumes of data. All of this has arrived at a time when increased connectivity through mobile technologies such as 5G and edge computing means that all size of business, and increasingly those in emerging markets are able to steal a march on larger, more established competitors still tied to legacy systems.
But what does all this mean in practice?
Smart Retail
We're already beginning to see high-street shops employ sensor technologies built around AI. And with these technologies in play, it's now possible to glean almost as much information from a physical store as you can from online counterparts.
"Analysis of existing CCTV footage, when combined with light detection and ranging (LIDAR) and sensors, allows retailers to conduct traffic analysis on customers in-store, so you can see how people are moving through the aisles and where they are stopping to look at shelves," explains Bjorn Andersson, Senior Director of Global Industry Solutions Marketing at Hitachi Vantara. "That lets retailers gauge the level of interest from each customer. It even makes sentiment analysis possible, so you can conduct A/B testing on window displays and then stock them based on response data."
Smart technologies are also helping retailers with their inventory and supply chain management. One of the most common examples is a store owner complementing these technologies with other sources of data such as the weather forecast. If, for example, the weather forecast predicts sunny weather, the AI system can suggest (or automatically purchase) the required stock to meet demand. It's the same story if a snowstorm is forecast, automatically prompting the store owner to stock up on winter supplies.
Factories of the Future
Factories have always been pioneering early adopters in the use of smart technologies and deploying AI and other data-led solutions is already well established throughout the manufacturing value chain, particularly in areas such as production planning, predictive maintenance and managing interruptions. By being able to understand and predict where and when an outage might occur, factory owners are able to introduce contingency plans to ensure output remains at optimum levels.
It's also being used to improve worker and product safety in factories. "You might remember a few years ago when Japanese automotive parts company Takata had a problem with its airbag production," Andersson says. "A fault in the production line resulted in a series of deaths that ultimately caused 42 million cars to be recalled and spelled the end of the line for the business.
"Hitachi worked with Hyundai to avoid exactly those types of issues. Using cameras and LIDAR, we monitor how Hyundai puts together its various components and in turn ensure that each one is up to its already high standards. Our sensor and AI technologies can track and detect flaws to ensure predictable quality at all times."
The list of use cases goes on. Hitachi has implemented sensors that have helped prevent injuries in factories by alerting workers of potential risks and avoiding accidents. Factories are busy places, often involving lots of trucks driving around on-site. "Our sensor technologies can monitor those vehicles and warn workers to stay out of dangerous locations. AI can also help factories that are seeing increased demand for whatever reason—such as PPE producers during the pandemic—to manage their production lines and increase output." Another key use, explains Andersson, is in helping to reroute supply chains in the event of disruption of the likes seen in last year's Suez Canal crisis.
On the Right Track
Rail transport is another great example of how AI can deliver value across the entire value chain, says Andersson. "If you look at it from a customer's experience standpoint, AI can help deliver a smoother journey. Today, you often need to take multiple modes of transport to reach your destination and AI can deliver relevant live-timetable information to smart devices."
Train operators use AI and sensor technology to improve journeys on network. For example, a train operator might increase the number of carriages before and after a football match when passenger numbers might surge. It might also deliver information to consumers around which carriage will be the most likely to provide you with a seat, or at least which carriage will be the quietest.
In some cases, these AI and sensor technologies are even being used to automate entire rail networks. Hitachi has a system of driverless trains in Copenhagen that serves a large portion of the city's transport network, all without the need for a human driver. Predictive maintenance also allows operators to understand the wear and tear on machinery so that they can be replaced only when required, rather than at the four-year junctions required by regulators.
Smart Cities and the Public
Today, more than half of the world's population lives in urban areas, with that number set to rise to two-thirds by 2050. Managing public spaces has so far primarily been focused on delivering information and advice. But smart cities of the future will be able to use AI to reduce problems such as traffic, pollution and crime.
"AI systems and devices can keep the public aware of what's going on, when to stay away from certain areas and how to move through public places on route to their next destination as safely and quickly as possible," explains Andersson. "In future, we'll see data from smart devices used to positively impact the quality of life for citizens."
Another benefactor of AI and sensor technology are city planning, particularly for enhanced operational excellence. These technologies can, for example, alert refuse collection services to empty a trash can when a sensor alerts them it is full. The same can be said for CCTV analysis and street cleaning. One of the greatest challenges is often the implemention of these technologies while protecting the privacy of citizens. However, through the use of technology like Hitachi's LiDAR sensors that are designed to respect privacy, city planners can obtain granular, real-time insights that enhance operations, safety, and processes.
The Path to a Data-Driven Future
While we're already seeing the blurring and blending of the psychical and digital worlds, we're only just starting to scratch the surface of what is possible. Once we being to couple intelligent technologies with smart personal devices such as phones and watches, it will become possible to personalise customer and employee experiences in all settings. And as factories and businesses become more connected, and cities more intuitive, disruptions, whereby pandemic or the next Suez Canal crisis, will become easier to manage because AI can proactively assess the impact of variables and enable a data-driven strategy to mitigate disturbances to value chains.
"Hitachi is the only company in the world that has a big enough presence in both the operational technology that digitises the physical world and the analytics software that helps our customers make sense of the data," Andersson says. "Hitachi is in a rare position where we can bring it all together. It goes back to one of our mission statements from 1910 which was 'providing original technology that provides value to society'. That purpose comes through loud and clear in our smart technologies and software."
We look forward to you joining us on the journey.
Your Guide to Building a Digital Advantage in Industry
Around $900 billion in digital transformation spending was wasted in 2018 by poorly designed programs, a mistake that companies reeling from the pandemic cannot afford to make. Digital transformation is taking off at speed, with businesses needing global connectivity, software powered by artificial intelligence and machine learning, and other tools that ensure efficient management of processes as we emerge from the pandemic.

In this whitepaper, Hitachi provides a framework for scaling digital, what it involves, practical advice, tips and tricks, and explains how to become a data-driven organization.

Download the whitepaper now.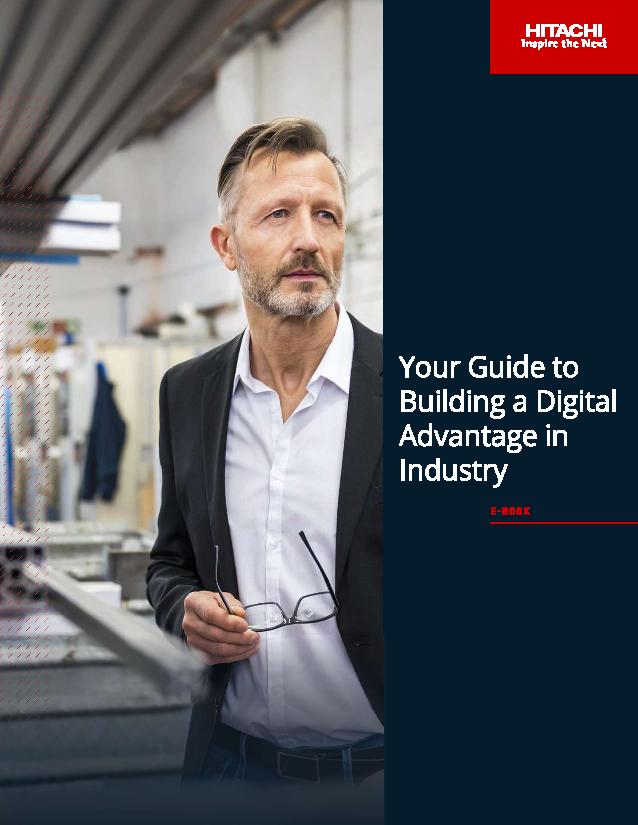 By clicking the "Submit" button above, you accept the Terms & Conditions and acknowledge that your data will be used as described in the Hitachi Privacy Policy

We will also collect and use the information you provide for carefully considered and specific purposes, where we believe we have a legitimate interest in doing so, for example to send you communications about similar products and services we offer. We will always give you an option to opt out of any future communications from us. You can find out more about our legitimate interest activity in our privacy policy here. 'We' includes Verdict Media Limited and other GlobalData brands as detailed here.