Regions such as Scandinavia are welcoming the cashless society with open arms, but not everywhere is so keen. The US is actively trying to ban cashless in some areas, but to what end? Patrick Brusnahan writes
Philadelphia has become the first US city to take legal action against cashless stores.
Democratic Mayor Jim Kenney signed a bill in March 2019 that prohibits the majority of stores from refusing to take cash or charging cash-paying customers a higher price. It comes into effect in July 2019, with businesses such as parking garages and wholesale club stores exempt; purchases that require a security deposit, such as rental cars, are also not subject to the law.

The state of Massachusetts has had a law against cashless businesses since 1978, but others are now getting into the game. Chicago attempted a similar move in 2017, but failed. New York is weighing up a proposed bill, and New Jersey passed similar legislation in February 2019, although it is yet to be signed.
The unbanked
While one could consider them regressive or even anti-technology, moves like these help keep the unbanked in the market. Banning cashless may just help with financial inclusion.
Senthil Ravindran, executive VP and global head – xLabs at Virtusa, says: "To ever reach a point where cashless stores are a viable reality, there needs to be more work done on financial inclusion in the US.
Loading ...
"While there's been a global revolution in financial inclusion in recent years, with 515 million adults obtaining an account with a financial institution or mobile money provider between 2014 and 2017, it is clear that having access to a bank or mobile money account is not enough. A federal survey showed that 25.2% of households in the US are unbanked or underbanked, with this proportion representing approximately 32.6 million households – cashless stores would limit over a quarter of US households' spending power as things currently stand."
Ravindran adds: "If financial inclusion efforts are to stick, there needs to be much greater emphasis on improving usage of financial services. Banks and fintechs need to focus on building bundles of financial services which really meet the needs of the unbanked. To do this, they need to figure out how to solve issues such as assessing the creditworthiness of customers with limited or non-existent credit histories.
"Addressing this problem will require large banks, fintechs, regulators and technology experts to work in harmony to find innovative new approaches to meet the needs of the unbanked. Until this progress has been made, cash must remain an option for consumers, as the alternative will diminish their ability to be financially active within society."
According to the Federal Deposit Insurance Corporation (FDIC), 6.5% of US households were unbanked in 2017. This totals around 8.4 million households, or 14.1 million adults and 6.4 million children potentially left out if the country goes cashless. The FDIC also found that 18.7% of US households were underbanked, and only 68.4% are fully banked. There is a large chunk of the population that would be left isolated in a cashless society.
Cards
However, there are plenty of cards in the market. According to GlobalData, there are 4.5 cards per US inhabitant – a figure higher than national peers such as Canada (3.1 cards per inhabitant) and the UK (2.4).
Cash is expected to account for 20.1% of all transactions in the US in terms of volume; in terms of value, the figure is only 0.6%.
According to the Federal Reserve Bank of San Francisco, nearly 60% of in-person payments under $10 are made in cash. On the other hand, cards account for 57.4% of the transaction volume (114 billion transactions) and 3.2% of the transaction value. GlobalData predicts that this will rise to 136.7 billion transactions by 2022.
Matt Schulz, chief industry analyst at CompareCards, says: "I don't know that a ban on cashless stores is necessary, but we do need to recognise as a society that when we go cashless, we risk leaving a great many people behind. The truth is that many, many Americans don't have a credit or a debit card, including many of the most vulnerable in our nation. When you refuse to accept cash, you're essentially closing the doors on those people, or you're forcing them to rely on things like prepaid cards, which can come with fees that make them a pricey option."
"Ultimately, Americans just want to be able to pay however they want, and while there's been a lot of talk about how we're moving toward a cashless society, the reality is that cash is still a powerful force in this country today. It's a lifeline for people who don't have a credit card or a bank account, and it will continue to be that way for a long, long time."
"This is an example of the love-hate relationship that the business world has with credit cards. They love them because their customers rely on them, but they hate them because the fees they pay every time a customer uses one hit them in their bottom line. Still, the fact that so many businesses have gone completely cashless is a clear indicator that many, many businesses are willing to live with those fees if it means making it easier and more convenient for their customers to buy their products."
Cashless stores and inclusion in the US
Some people are very much in favour of cashless stores and what they could bring to innovation.
Speaking to EPI, Brent Bowen, senior VP of payments at Valid, says: "The trend toward digitisation has prompted this debate. Philadelphia just banned cashless stores, and the controversy will continue.
"However, the move toward digitisation will continue ahead, and this clash of ubiquity will not be solved quickly. Just like the shekel had its purpose of combining value with weight, digital transformation will solve the ubiquity solution by looking at alternative solutions to banknotes. This could be an excellent time to replace cash and coin with an e-purse solution which is backed by banknote currency. The engagement of the Federal Reserve in support of open technology solutions could fuel innovations for years to come."
One such development is Amazon Go. Amazon launched its physical 'lineless' store in January 2018; as the online giant's first bricks-and-mortar store, it was very popular and – somewhat ironically – the queues to enter it stretched around the block.
The Amazon Go store, located in Seattle, Washington, does not use cashiers. Shoppers scan their phones at turnstiles and Amazon charges them automatically. Sensors and cameras pick up what customers have decided to purchase. If a customer puts an item back on the shelf, it is immediately taken off the final total.
So, is the Amazon Go strategy ready to be duplicated? Ubamarket CEO Will Broome believes that for any other company it is "completely unaffordable". Despite this, Amazon reportedly aims to open 3,000 cashless stores by 2021.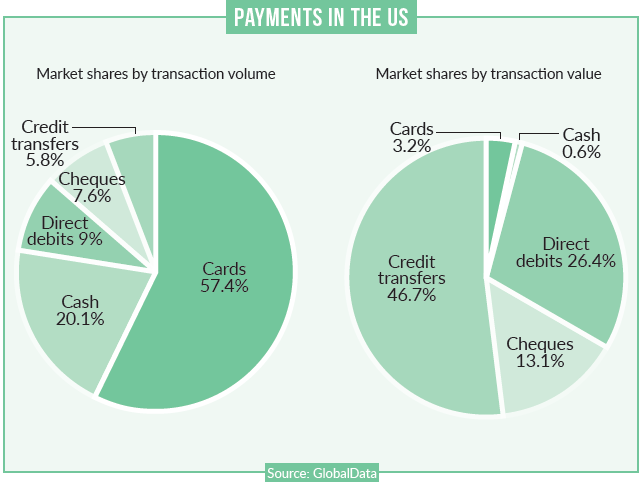 The UK
The UK is in a similar position, with the recent Access to Cash report stating that the UK is not ready to go cashless in its present state. Some 17% of the UK's population – over eight million adults – would struggle in a cashless society. Furthermore, it largely affects those in rural areas, the elderly and those with mobility problems.
Craig Ramsey, head of real-time payments – product management at ACI Worldwide, says: "In an age of where we can transfer funds between our accounts in real time, and where the rise of new payment methods, such as contactless, are enabling billions of pounds' worth of instant payments, you'd think that surviving without cash is a relatively simple process. And you'd be correct, if you stick to making purchases via the major hotel, retail and restaurant chains.
"A major barrier for a cashless future develops when we look at smaller, more personal and emotive payments, for example charitable donations, coins for a busker or tipping a waiter. Although the emergence of prepaid and contactless is enabling some solutions within these areas, there's still work to do to overcome this hurdle."
Ramsey continues: "However, it's worth pointing out that those in the UK who conduct their lives in cash are actually the worst off. In most cases, paying for bills such as utilities by cash means you usually pay more. Many countries, for example India, are embarking on policies to drive cashlessness in order to increase financial inclusion."
Cashless was often regarded as the future, but we are in the middle of a rethink: cashless is pointless if it takes consumers out of the ecosystem. The unbanked and the vulnerable would be cut out. While cashless feels futuristic, businesses must take care to not forget their customers that are either not ready or able to leave the past behind.