Comments
VibePay should differentiate its P2P payment app to ensure long-term success
VibePay should appeal to Generation Z and Millennials given its social media-like features, ease of use, and enhanced security features. However, fierce competition from other peer-to-peer (P2P) payment transfer providers is likely to stand in the way of VibePay's P2P transfer app endeavour.
London-based VibePay has been given approval from the UK Financial Conduct Authority to introduce a P2P payment transfer app in the UK. With the launch of the app in September, the company aims to enable consumers to set up social events and then instantly receive payments from friends and family through the mobile app.
There are various features of VibePay that make the app increasingly appealing to teens and young adults. As with Venmo in the US, VibePay is trying to target its payment tool at Generation Z and Millennials due to its social media-like features that permit users to leave a message or an emoji after each payment.

It seems that VibePay is targeting the correct segments, as 69% of UK Generation Z respondents and 58% of UK Millennial respondents in GlobalData's 2019 P2P Payment Analytics use P2P payments for domestic use (as illustrated in the below chart), which is higher than other generations. However, given these high usage rates among the target segments, VibePay will need to entice consumers away from its competitors in order to succeed.
Making a payment through the P2P transfer app is designed to be simple; users will simply need to link their bank account or use the money they have on the VibePay app. In terms of security, VibePay is also deemed to be safe as it operates under open banking, which enables the user to have full control over their data. To further enhance security, each individual transaction has to be authorised through the user's online banking provider.
While VibePay offers various benefits to consumers, the main challenge that it faces is competition from Pingit, an established competitor that provides almost identical services. Crucially, VibePay and Pingit both provide its services to anyone and users do not have to bank with a specific bank in order to utilise its features. VibePay also faces competition from an array of other banking apps, with most allowing fast P2P transfers providing the user knows the recipient's phone number.
Overall, VibePay is correctly targeting Generation Z and Millennials by introducing social media-style features on its P2P payment transfer app. However, given the increased competition from elsewhere, it is probable that the launch of VibePay will be unsuccessful if the company fails to differentiate itself further from competitors in the long term.
One way it could achieve this is by providing an additional loyalty program, a strategy that was successfully undertaken by US-based Venmo earlier this year through its rewards program in partnership with Chipotle Mexican Grill. The program might have been a departure from Venmo's main user case of helping to split bills with friends and family, but it helped attract the attention of a wave of potential new users.
In addition to loyalty programmes, VibePay could also provide a niche by offering promotions for social events, experiences, and holidays. Such moves would likely result in growth for its digital P2P payment app.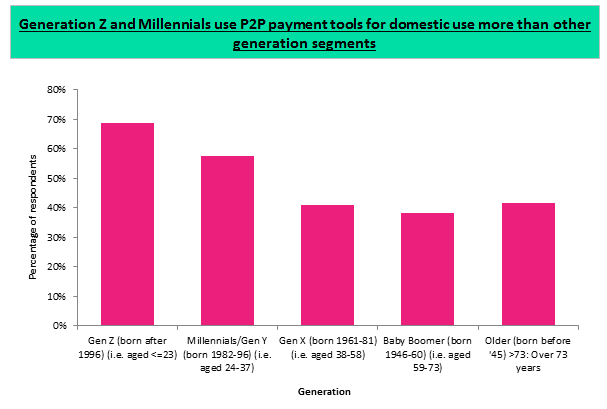 Source: GlobalData's 2019 P2P Payment Analytics
Latest reports from
GlobalData is this website's parent business intelligence company.