Cash has been a preferred instrument for consumer payments, accounting for 55.7% of the total payment transaction volume in 2016. However, its use is expected to fall as electronic payments grow
Government initiatives to encourage card payments, a surge in contactless payments, and consumer preference for emerging payments such as digital and mobile wallets are all expected to reduce cash's share in favour of electronic payments in Ireland over the coming years.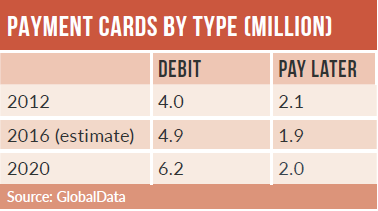 Debit cards remain the preferred payment card among Irish consumers, accounting for 81.6% of the payment card transaction value in 2016.

Rising consumer use of debit cards for low-value transactions, the growing banked population, the government's launch of the National Payments Plan to encourage use of electronic instruments such as debit cards over checks, the removal of stamp duty on ATM transactions, and the lowering of interchange fees to a minimal 0.1% were key factors supporting use of debit cards.
High interest rates on credit cards and the ready availability of overdraft facilities shifted consumer preference towards debt-free financial products.
Overall, the credit cards market registered a sluggish review-period CAGR of 0.59% in terms of transaction value. As bank lending slowed during the eurozone crisis, Irish consumers began to limit credit card spending. Banks also applied more stringent lending requirements, which increased the adoption of debit cards as consumers preferred to spend only what they had.
International merchant acquirers are entering the Irish payment cards market through partnerships and acquisitions. US-based acquirer First Data, with Allied Irish Banks, entered into a partnership with China UnionPay (CUP) in June 2014, to become the first merchant acquirer in Ireland to provide payment acceptance services for CUP debit and credit cards.
In August 2014, Evo Payments, a leading merchant acquirer in North America and Europe, partnered with Bank of Ireland to expand its merchant acquiring business in Ireland. The services are marketed through Bank of Ireland Payment Acceptance, which is primarily responsible for offering payment card solutions to Irish merchants.
E-commerce in Ireland posted a review-period CAGR of 11.77%, growing from $7.7bn (€7.3bn) in 2012 to $12.0bn in 2016. Rises in online and smartphone penetration, the number of online shoppers and the availability of payment gateways supported e-commerce's growth in the country. Leading e-commerce websites in Ireland include Linwoods Health Foods, James Whelan Butchers and McElhinney's Ballybofey Donegal. International e-commerce companies such as eBay, Apple, Zynga.com and Amazon also have presences in the country.
Although cards accounted for 75.4% of online payments in 2016, emerging methods such as digital and mobile wallets are gaining prominence in e-commerce. Digital and mobile wallets and carrier billing accounted for 24.2% of the total e-commerce transaction value in 2016.