With prolific consumer use, Israel is one of the Middle East's most developed payment card markets and registered the highest frequency of use in comparison to its peers in 2016
Despite growth in non-cash payments in the last decade, Israeli consumers are still strongly inclined towards cash. The Bank of Israel has made several regulatory interventions to boost electronic payments and reduce dependence on cash, such as introducing a cap on cash transactions.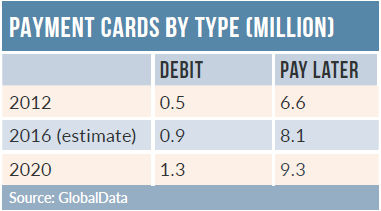 Israeli regulators are looking to open up competition by allowing new types of banking, such as mobile-only banks. In February 2017, Bank Leumi launched Pepper, a mobile-only banking service offering savings and lending products, and in January 2015 it launched a service enabling personal customers from all banks to open an account via the internet or mobile apps, without visiting a branch.
Israel's payment cards market is dominated by pay later cards, with limited adoption of debit cards. All credit cards are a combination of deferred debit cards and credit cards, functioning more like charge cards. Generally, credit cardholders are billed for purchases at the end of a month; however, in Israel total outstanding amounts in a given month are automatically debited from customers' current accounts.
Adoption of debit cards is low, with retailers reluctant to accept them due to the lengthy transaction process and high merchant service charges. While debit cardholders are charged immediately, amounts are credited to retailers' accounts at a later date – similar to the timing of deferred debit transactions – typically after a month. In addition, retailers pay high merchant service charges for debit card transactions, at a similar rate to credit card transactions. With no incentive to favour debit over credit transactions, merchants have little reason to accept debit cards.
Debit card penetration in Israel was 10.3 cards per 100 individuals in 2016, lower than peers Iran (337.3), the UAE (109.3), Bahrain (97.4), Kuwait (93.1), Oman (85.8), Saudi Arabia (75.8) and Lebanon (33.4).
Government intervention
The central government took several initiatives during 2012–2016 to curtail cash transactions and encourage debit card use, including requiring banks to issue debit cards free of charge to new and existing accounts, reducing interchange fees on debit card transactions, and abolishing bank fees for debit card transactions. The initiatives are expected to increase debit card penetration and use.
A key aspect of Israel's payment cards market is the entrenched positions held by the three main credit card issuers, which are also owned by the country's main banking groups. The dominance of Isracard, Leumi Card and ICC Cal has long gone unchallenged for several reasons, including the barriers to entry for foreign issuers, which lack the wide branch networks and distribution points of domestic issuers.
Another factor is that Israel is, at least in card payment terms, a small country. This has not gone unnoticed by regulators, which have asked Bank Hapoalim and Leumi Card to separate ownership of their credit card companies.