News
Johnson and Trump at loggerheads over digital tax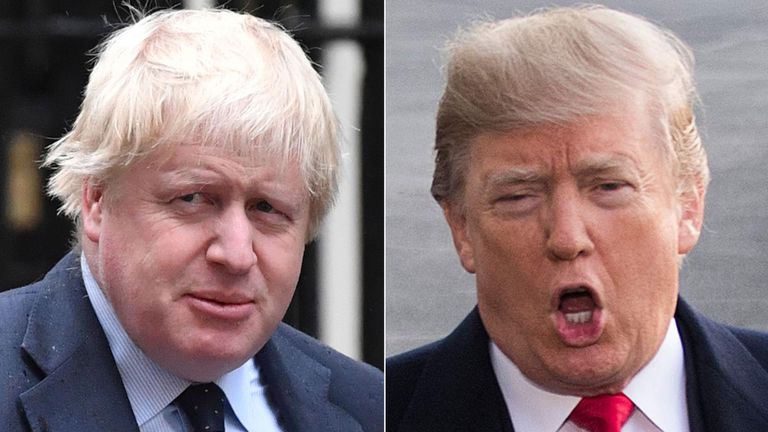 The PM and the President are set on a collision course, as Mr. Trump threatens retaliatory tariffs if the UK government does not abandon its plans for a digital tax.
The British government aims to introduce a new 2% tax on the revenues of search engines, social media platforms, and online marketplaces that do business with UK residents, starting from April 2020.
The current corporate tax rules, according to the government, "have led to a misalignment between the place where profits are taxed and the place where value is created."

The new measure "will ensure large multinational businesses make a fair contribution to supporting vital public services."
The Trump administration counters that the tax would unfairly discriminate against US technology companies such as Google and Amazon.
Standing firm and "repercussions"
Downing Street insists it intends to proceed with the tax. "We plan to go ahead with our digital services tax in April," said the UK's finance minister Sajid Javid.
Already, the £500 million in revenue that the UK government expects yearly from the digital tax has been included in the public-finance projections.
US Treasury secretary Steven Mnuchin has warned the UK, and others including Italy, that any digital tax would have serious repercussions.
At the same time rhetoric from the US President, who this month struck a phase-one deal in trade negotiations with China, has stirred up lingering worries about another potential trade war.
"I wanted to wait till I finished China, to be honest with you. I always like to be very transparent. I wanted to wait till I finished China. I didn't want to go with China and Europe at the same time," Trump told Fox Business News.
Post-Brexit trade talks between Washington and the British government are due next month, following the UK's departure from the EU with the hope of securing a fast-track deal.
The contentious issue is sure to be revisited at that time.
French Digital tax on hold
Earlier this week, the French and US governments agreed to extend negotiations on the issue of the French digital tax until the end of 2020.
French President Emmanuel Macron announced his own digital tax last year, and Trump promptly threatened to levy tariffs on $2.4bn of French goods such as wine if Paris did not back down.
Now the two presidents have agreed to "find a solution in an international framework" and avoid "a trade war that will benefit no one," according to French news agency AFP.
International agreement wanted
European countries including the UK and France have said they'd prefer an international agreement at the OECD to set the rules for corporate taxes on a global level.
Once such an agreement is in force, the UK says, its plans for a digital tax will be scrapped.