News
Travelex cashless study: do people really want to ditch cash?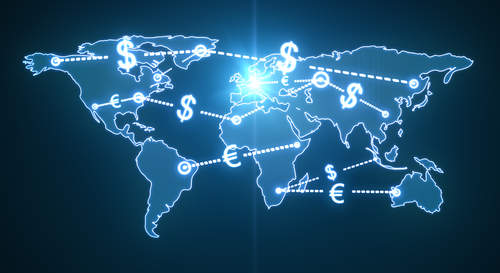 Are we entering the dawn of a cashless society? The Travelex cashless study analyses whether this is really what consumers want.
According to UK Finance, by 2026 cash will account for just 21% of transactions. So it's fair to say that the UK and other countries are heading towards a more cashless society. However, cash is still a popular choice for many.
The rise in payment technologies such as digital wallets, biometrics, contactless and even cryptocurrency has had a tremendous impact on how consumers manage their transactions.

People enjoy the convenience of being able to just tap and go, without needing to search through their purse for money. It also eliminates the possibly of stolen physical cash.
These advantages mean that the increased adoption of cashless technologies has been seen by some as a universal good. Some of the most progressive nations such as Sweden and Norway are leading the charge. But even if cash is no longer king, to some it still holds an important place in our economy.
The Travelex cashless study analyses the use of cash and cashless technology in four major markets – the UK, Australia, Brazil and South Africa. Looking at these four markets the study found that a cashless society may not be a realistic ambition. In fact, the findings revealed an "immovable" 24% of consumers who will never abandon cash—no matter what technological advance or leap forward is available to them.
There were respondents across all the countries surveyed saw cash as part of their day-to-day lives and also that it is regularly used.
In the UK and Australia the use of cashless technologies is more widespread. Consumers are eager to jump on new and innovative ways to enhance their financial management. However in both markets around 80% of people said that they are comfortable using cash highlighting a need for both.
In Brazil and South Africa, where cash use is more common, there is a strong desire for wider acceptance of cashless technologies such as payment cards and digital wallets. In both markets, 60% say that they are worried about having cash stolen from them which suggests fear of theft is a key driver rather than convenience.
Travelex cashless study: Key findings
The study asked participants whether they believed cash would eventually disappear. Almost as many think it will stick around as think that it will fall out of use. A significant minority simply don't know, reinforcing that this is a question that does not yet have an obvious answer.
Interestingly, it is the UK that believes cash will stick it out. The UK has embraced the use of cashless technologies, however it is the least convinced that this will be the only way consumers will pay in the future.
Some of the study highlights include:
Most people neither expect nor desire an end to cash. Instead, they want a mix of payment methods to be available, including cash
ATM use is remarkably consistent, no matter how far along a country is on the "cashless journey". Even if people have good access to cashless technology, they still want access to cash
There is a core of people who will never give up cash, no matter how convenient cashless payment technology becomes
Cash is no longer king—but neither is it dead. The cashless society is on hold, at least for now
The findings clearly indicate that cashless technologies will not replace cash completely. Instead consumers want to be able to use both.
Earlier this year, the Bank of England Forum challenged UK consumers to test whether they can live for a week using only cash or cashless payment methods.
Quite simply, a cashless society is only possible if society demands it.
Free download worth over $5000
Download our 2018 Technology, Media and Telecoms Predictions Report
Worth up to $5,850
In this report, we look at the 30 big tech themes for 2019, identifying winners and losers for each theme. This report will impact all industries helping:
CEOs/Senior Staff: in all industries understand the disruptive threats to their competitive landscape
Investors: Helps fund managers focus their time on the most interesting investment opportunities in global TM