The technology industry continues to be a hotbed of innovation, with activity driven by the rapid emergence and widespread adoption of game-changing technologies such as artificial intelligence (AI), robotics and Internet of Things (IoT), and growing importance of technologies such as digital cameras, automated image processing and analysis software, high-resolution displays and virtual microscopy systems. Digital microscopy can use 3D imaging techniques like confocal microscopy, multiphoton microscopy, and structured illumination microscopy to capture three-dimensional images, providing enhanced spatial information and depth analysis of specimen. In the last three years alone, there have been over 3.6 million patents filed and granted in the technology industry, according to GlobalData's report on Innovation in Artificial Intelligence: Digital microscopy. Buy the report here.
However, not all innovations are equal and nor do they follow a constant upward trend. Instead, their evolution takes the form of an S-shaped curve that reflects their typical lifecycle from early emergence to accelerating adoption, before finally stabilising and reaching maturity.
Identifying where a particular innovation is on this journey, especially those that are in the emerging and accelerating stages, is essential for understanding their current level of adoption and the likely future trajectory and impact they will have.
300+ innovations will shape the technology industry
According to GlobalData's Technology Foresights, which plots the S-curve for the technology industry using innovation intensity models built on over 2.5 million patents, there are 300+ innovation areas that will shape the future of the industry.
Within the emerging innovation stage, finite element simulation, ML-enabled blockchain networks and generative adverserial network (GAN) are disruptive technologies that are in the early stages of application and should be tracked closely. Demand forecasting applications, intelligent embedded systems, and deep reinforcement learning are some of the accelerating innovation areas, where adoption has been steadily increasing. Among maturing innovation areas are wearable physiological monitors and smart lighting, which are now well established in the industry.
Innovation S-curve for artificial intelligence in the technology industry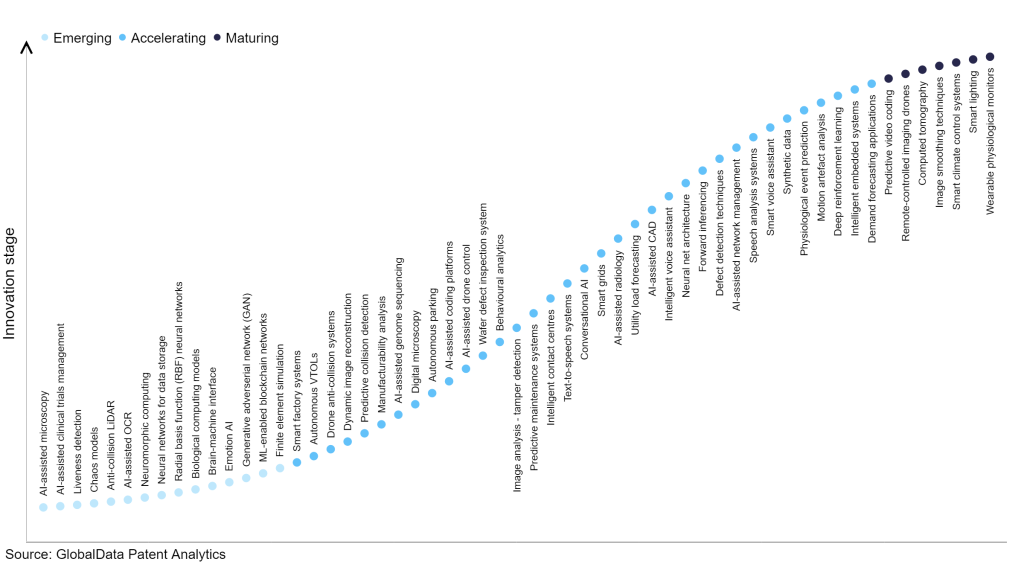 Digital microscopy is a key innovation area in artificial intelligence
Digital microscopy refers to the utilisation of digital cameras and software to enlarge and examine objects that are not visible to the naked eye due to their small size. It finds applications in diverse scientific domains like medicine, biology, and materials science, enabling enhanced exploration of object surfaces. Furthermore, digital microscopes are employed in industrial environments to inspect components, identifying flaws or defects for quality control purposes.
GlobalData's analysis also uncovers the companies at the forefront of each innovation area and assesses the potential reach and impact of their patenting activity across different applications and geographies. According to GlobalData, there are 70 companies, spanning technology vendors, established technology companies, and up-and-coming start-ups engaged in the development and application of digital microscopy.
Key players in digital microscopy – a disruptive innovation in the technology industry
'Application diversity' measures the number of different applications identified for each relevant patent and broadly splits companies into either 'niche' or 'diversified' innovators.
'Geographic reach' refers to the number of different countries each relevant patent is registered in and reflects the breadth of geographic application intended, ranging from 'global' to 'local'.
Patent volumes related to digital microscopy
Source: GlobalData Patent Analytics
Olympus is a leading patent filer in digital microscopy. The company's patents are aimed at invention describing a confocal microscope apparatus that includes an image acquisition unit configured to obtain a first all-in-focus image of each of a plurality of measurement visual field areas constituting a measurement target area in a brightness setting in accordance with the corresponding measurement visual field area, and a stitched image constructor configured to construct a stitched image based on a plurality of second all-in-focus images.
The second all-in-focus images are obtained through conversion of the plurality of first all-in-focus images obtained by the image acquisition unit, so that the images become closer to a plurality of reference all-in-focus images. The plurality of reference all-in-focus images are obtained when the plurality of measurement visual field area is captured in a brightness setting serving as a reference.
Other prominent patent filers in the space include Carl Zeiss Stiftung and Danaher.
By geographic reach, Chronos Therapeutics leads the pack, followed by Pathware and Q-linea. In terms of application diversity, Alentic Microscience holds the top position, followed by Soitec and Alphabet.
Digital microscopy can transform scientific research, medical diagnostics, and industrial inspections by providing high-resolution imaging, precise measurements, and advanced analysis capabilities. It enhances accuracy, efficiency, and collaboration, leading to breakthrough discoveries, improved patient care, and enhanced quality control in various fields.
To further understand how artificial intelligence is disrupting the technology industry, access GlobalData's latest thematic research report on Artificial Intelligence (AI) – Thematic Intelligence.
Premium Insights
From
The gold standard of business intelligence.
Blending expert knowledge with cutting-edge technology, GlobalData's unrivalled proprietary data will enable you to decode what's happening in your market. You can make better informed decisions and gain a future-proof advantage over your competitors.