The technology industry continues to be a hub of innovation, with activity driven by an increasing emphasis on environmental sustainability to reduce greenhouse gas emissions, improve energy efficiency and promote sustainable economic development, and growing importance of green transportation solutions and technologies related to battery management sensors, software and systems for electric vehicles (EVs). In the last three years alone, there have been over 3.6 million patents filed and granted in the technology industry, according to GlobalData's report on Innovation in Environmental Sustainability: EV battery management systems. Buy the report here.
However, not all innovations are equal and nor do they follow a constant upward trend. Instead, their evolution takes the form of an S-shaped curve that reflects their typical lifecycle from early emergence to accelerating adoption, before finally stabilising and reaching maturity.
Identifying where a particular innovation is on this journey, especially those that are in the emerging and accelerating stages, is essential for understanding their current level of adoption and the likely future trajectory and impact they will have.
300+ innovations will shape the technology industry
According to GlobalData's Technology Foresights, which plots the S-curve for the technology industry using innovation intensity models built on over 2.5 million patents, there are 300+ innovation areas that will shape the future of the industry.
Within the emerging innovation stage, environmental sensors, smart grid monitoring system, and EV battery management systems are disruptive technologies that are in the early stages of application and should be tracked closely. Waste management systems, engine exhaust control systems, and hybrid solar are some of the accelerating innovation areas, where adoption has been steadily increasing. Among maturing innovation areas, energy trading platforms, EV charging metering automation, and smart grid metering are now well established in the industry.
Innovation S-curve for environmental sustainability in the technology industry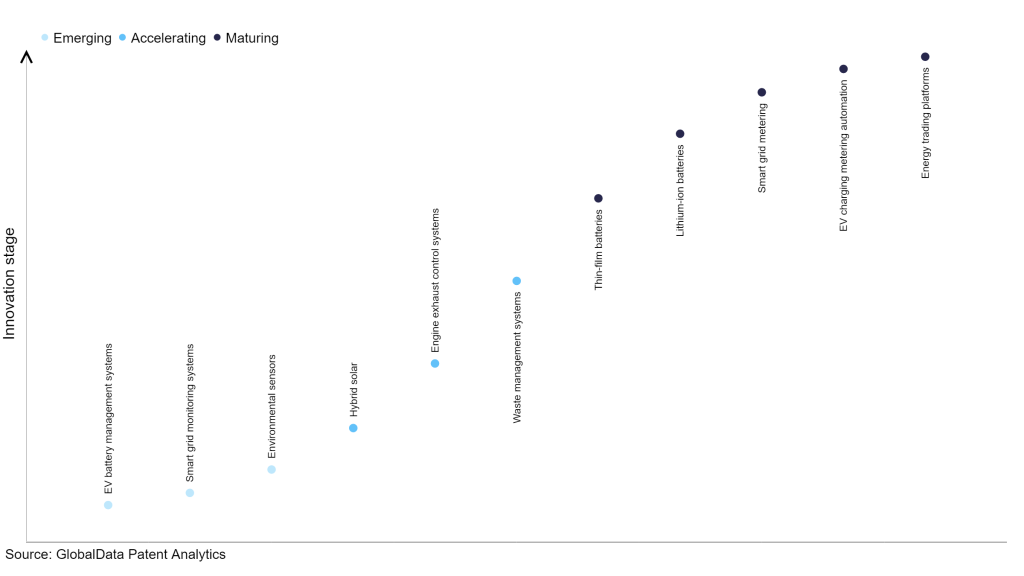 EV battery management systems is a key innovation area in environmental sustainability
Battery management systems (BMS) in electric vehicles (EVs) are electronic systems that monitor and manage the battery's charging, discharging, and overall usage. BMS features may include cell balancing, temperature monitoring, and over-current protection. The primary objective of BMS is to ensure the safe and efficient operation of the EV's battery pack.
GlobalData's analysis also uncovers the companies at the forefront of each innovation area and assesses the potential reach and impact of their patenting activity across different applications and geographies. According to GlobalData, there are 50+ companies, spanning technology vendors, established technology companies, and up-and-coming start-ups engaged in the development and application of EV battery management systems.
Key players in EV battery management systems – a disruptive innovation in the technology industry
'Application diversity' measures the number of different applications identified for each relevant patent and broadly splits companies into either 'niche' or 'diversified' innovators.
'Geographic reach' refers to the number of different countries each relevant patent is registered in and reflects the breadth of geographic application intended, ranging from 'global' to 'local'.
Patent volumes related to EV battery management systems
Source: GlobalData Patent Analytics
Among the companies innovating in EV battery management systems, Gogoro is the leading patent filer. One of the company's patents is aimed at describing a system that allows users to locate and reserve charged portable energy storage devices through a network of collection, charging, and distribution machines. The locations of the machines with available devices are communicated to the user's mobile device, and reservations can be made through the graphical user interface on a map. The system can also warn users when they are approaching the edge of the network's coverage area, and reservations can be made automatically based on the user's potential route.
Other prominent patent filers in the EV battery management systems space include BYD and Toyota Motor.
By geographic reach, BYD leads the pack, followed Proterra and Omron Tateisi Electronics. In terms of application diversity, SZ DJI Technology holds the top position, followed by A.T. Kearney and Toshiba.
EV battery management systems ensure the safety and longevity of the battery pack in an electric vehicle, maximising the performance and efficiency of the battery pack, which is a critical component of an EV's range and overall operation. In addition, a properly functioning BMS helps to reduce the risk of battery pack failure, which can have safety implications for the EV driver and passengers.
To further understand how environmental sustainability is disrupting the technology industry, access GlobalData's latest thematic research report on Sustainability – Thematic Research.
Premium Insights
From
The gold standard of business intelligence.
Blending expert knowledge with cutting-edge technology, GlobalData's unrivalled proprietary data will enable you to decode what's happening in your market. You can make better informed decisions and gain a future-proof advantage over your competitors.