Company Details
Regional Offices
Thought Leaders
Videos
White Papers
Press Releases
Contact Company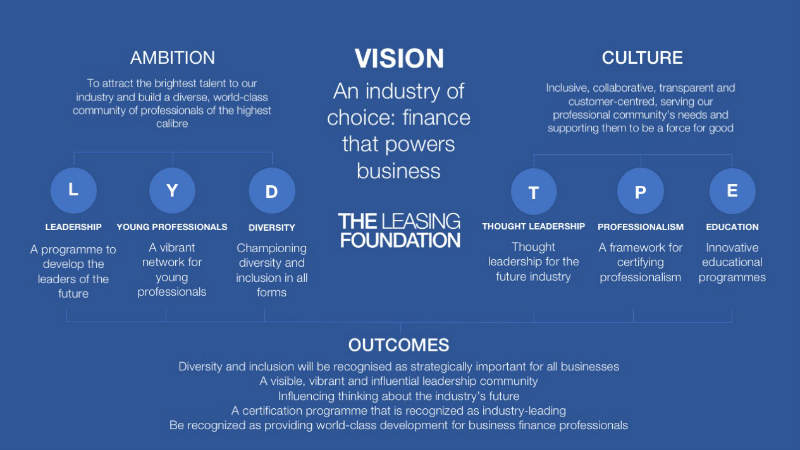 The Leasing Foundation
Personal and Professional Development in the Business Finance Industry
THE LEASING FOUNDATION is a forward-looking not for profit industry organisation that supports the business finance industry through personal and professional development and provides thought-leadership to drive the future development of the business finance industry.
The core of The Foundation is The Leasing Foundation Fellowship, a community of more than 150 exceptional business finance professionals. Fellowship of the Leasing Foundation is awarded in recognition of personal commitment to the industry that goes beyond an individual's current employer. Fellows are those who are willing to challenge current thinking and be an active advocate for the industry.
The Foundation has created a variety of programmes that deliver personal, professional and industry development and thought-leadership including:
Leadership development: the leasing foundation future leaders
A programme of leadership development that identifies, nurtures and supports a network of exceptional people who are the future leaders of the industry. During the programme, participants explore issues including how to connect strategy to purpose, how to identify, nurture and create excellence, how to act imaginatively and inclusively and how to focus on creating shared value.
It recognises the common aspirations of emerging leaders to be models of thinking and acting, to challenge conventional wisdom and to empower others to act and to be values-based, reflective and purposeful. Participants work together in a facilitated learning set where they can draw on each others' experiences and insights and explore current and future leadership challenges. The programme is led from within the industry and is based on a modern self-organised learning approach that integrates with the demands of modern careers.
Postgraduate education: The main leasing and asset finance
This is the world's first postgraduate qualification in the industry is designed and delivered in collaboration with Falmouth University. The two-year, part-time postgraduate course provides working professionals with opportunities for mobility and career progression in the dynamic asset finance industry. The MA is a recognised, high-quality qualification that signals professional status.
Successful completion demonstrates a commitment to continued professional updating, a focus on personal achievement and knowledge of contemporary and emerging industry developments. Studying for the MA provides entry to the vibrant and growing community of professionals who are part of the Leasing Foundation's global Fellowship, so increasing professional visibility and accelerating career progression.
Workplace and culture change: the leasing foundation diversity and inclusion initiative
Encompassing sexual orientation, race and ethnicity, mental health, disability and age, this initiative helps companies in the asset finance industry to understand the business benefits of building inclusive leadership, management, organisations and teams and will help them embed inclusion and diversity into hiring, performance management, succession management, leadership development and learning. The programme is led by Carol Roberts (Bibby Leasing), Jo Davis (Locke Lord) and Emma Thomas (Siemens Financial Services), working with diversity champions from across the industry.
-Research and insights – Leasing360
This is an insights platform that includes evidence-based research, critical insight from industry specialists, and editorial and commentary. Leasing360 is key resource for understanding the industry, a constantly updated map of what people, trends and product innovations are driving the industry, and a stimulus for debate and discussion about the future. Leasing360 is structured as a set of vertical and horizontal channels.
The horizontal channels deal with the past, present and future of the industry. Each channel contains themes that provide a key resource for understanding the industry, a map of what trends and product innovations are driving the industry, and a stimulus for discussion about the future of the industry.
Networking and career support – the young business finance professionals
The young business finance professionals: is a network for high-calibre young business finance professionals. The focus is on accelerating career development through advice, support and making connections with others in business finance. The network holds events throughout the UK and has held two sell-out networking events in London.
Conferences and events
The Foundation has organised five successful international events focusing on topics including technology, leadership, culture, change and innovation. The Foundation's events are recognised as providing thought-leadership on topics that drive the future of finance.
Professional accreditation: The certified asset finance professional
In 2018, the Foundation will launch A professional certification for leasing and asset finance professionals that provides career enhancement, recognition of professional status and competence, connection with a community of professionals, access to professional development resources including membership of special interest groups (SIGs) and regional chapters in the UK and Europe.
Peter Thomas: Executive Director
Professor Peter Thomas is co-founder and Executive director of The Leasing Foundation. He is visiting professor at Newcastle, Falmouth, Brunel and Beijing Normal universities and Dean for International projects at the International Institute for Big Data in Finance, Beijing, China.
His areas of expertise include digitalisation technologies and strategies; leadership coaching and development; NFP strategy, operations and governance; entrepreneurship development; financial innovation and fintech; design thinking; higher education strategy; educational technology; IoT and big data.
Key personnel
Chairperson: Carol Roberts, Independent
Peter Alderson LDF
Patron Jonathan Andrew Siemens Financial Services
Sharon Butler, Ricoh Europe
Graeme Chisholm, Cbcrs
Carl D'ammassa, Aldermore
Jo Davis, Locke Lord
Founder, Andrew Denton Alfa Plc
Rev Dr K Bill Dost, D&D Leasing
John Hooper, Independent
Ian Isaac, RBS
Nathan Mollet, Metro Bank
Mike Randall, Simply Asset Finance
Paul Slapa, Wesleyan
Ian smith, 1pm PLC
Gavin Wraith-Carter, Hitachi Capital Business Finance
Images
White Papers