Features
Decline shows signs of slowing down in CEE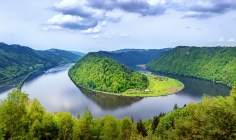 Despite the various economic challenges that its member countries continue to face, there are signs that the decline in volumes across the Central and Eastern European leasing market is slowing down.
According to the White Clarke Global Leasing Report 2012, (and not including Germany in a definition of Central Europe)Austria is the largest of the Central and Eastern European leasing markets at more than twice the size of the Czech Republic, with Romania, Hungary and Slovakia tightly grouped in the rankings.
However, the performance of Austria's leasing market in 2012 was a case of 'the bigger they come the harder they fall'.

Following an encouraging 2011, new business fell by more than 18% to €5bn last year and the number of new contracts dropped 3.8% to just over 170,000. Vehicle leasing proved once again to be the front runner of domestic business with new business volume of €3.47bn (€3.57bn in 2011).
Wolfgang Steinmann, secretary general of the Association of Austrian Leasing Companies describes his expectations for 2013 as cautiously optimistic. "In the first half of this year the market was down just 0.1% compared to the same period in 2012," he said.
"We assume that the expected improvement in the economic situation in the eurozone will impact the somewhat pessimistic economic climate in Austria."
Steinmann explains that the association has been lobbying hard for policies to boost the industry.
"As the parliamentary election took place this autumn, the Association of Austrian Leasing Companies took it upon itself to write a personal letter to all parties with a list of questions followed by some meetings," he says. "Although the coalition agreements are still being negotiated, most of the parties showed quite a positive response to many of our arguments. Furthermore, we have intensified bilateral meetings with the Federal Ministry of Finance."
In the Czech Republic, new business fell from €3.15bn in 2011 to €2.89bn last year as household expenditure was impacted by a 0.9 fall in GDP, says Jiri Pulz, secretary general of the Czech Leasing and Finance Association.
"There was a 28.3% fall in equipment leasing volumes in 2012 followed by a drop of 1.7% in the first half of this year," says Pulz.
"Other significant developments include the continuing decline of B2B equipment leasing (6.3% in the first half of 2013) and an increase of 8% in consumer leasing over the same period."
Pulz refers to the development of leasing in non-banking financial markets as far from satisfactory "although most leasing companies have substantially increased their share of credit financing in their asset finance business. As a result, there was a rise in the volume of credits provided by our members of 2.2% in the first six months of 2013."
He expects a slight increase in leasing volumes over the rest of the year as the improved economic situation renews interest in leasing finance, particularly from small businesses.
Romania experienced only a marginal decline in new business last year (to €1.235bn from €1.24bn in 2011) according to Leaseurope.
But Adriana Ahciarliu, secretary general of ALB Romania says some major players have withdrawn from the market while others have decided to incorporate leasing subsidiaries as an internal division of the commercial bank.
Ahciarliu is not overly-optimistic about growth prospects for 2013. "One of the reasons is directly related to the evolution of some financial groups and their interest in the Central and Eastern European market," she says.
"Some have decided to shut down leasing activity while others have decided to act under the European passport licence in Romania. Thus, the number of Romanian licensed leasing companies has diminished."
Damaging decisions
Ahciarliu suggests that a number of decisions taken by the Romanian government have damaged the leasing market, including its acceptance of a derogation from the EU VAT Directive imposing 50% non-deductibility of VAT on vehicle acquisition, financing and related services and the imposition of VAT payment by lessors on the non-repossessed leased assets in early terminated leasing contracts by lessee default.
"The efforts of ALB Romania and its members are first of all concentrated on lobbying for a better fiscal treatment of leasing and for the recognition of financial leasing as an asset-based financial product," says Ahciarliu
"Following negative results at local level, our efforts were transferred at the level of EU General Directorates to ask for support under the rights offered by the EU functioning treaty for infringement procedure and consequent change of legislation. I am proud to mention only positive results at this level."
Marian Horvath, chair of the statistics committee at the Association of Leasing Companies of the Slovak Republic says the Slovak leasing market currently suffers from lower demand for financing from business entities due to higher taxes and fees for entrepreneurs and companies after the change of government in 2012.
"Business investment has fallen over the last 12 months, which is why demand for lease financing is also down," Horvath says. "This can be seen in all commodities (machinery, trucks, cars and real estate). On top of that, financing of machinery and equipment is heavily negatively affected by financing of renewables during 2011-2012 that was not repeated.
"However, the retail segment is going up in 2013 due to increased penetration of financing on car sales. Last year every third new passenger car sold to a retail client was financed via a leasing company; currently it is every second vehicle."
Horvath expects the final figure for 2013 to be more or less the same as for last year. When asked whether the Slovak government has taken any direct or indirect action to support the lease finance industry, she acknowledges that it is supported by legislation relating to leasing depreciation.
"We try to positively influence the Slovak government and parliament via our active membership of the association of companies and entrepreneurs and the association of the vehicle industry. The aim is to provide direct links between leasing and increased business investment."
Total equipment financing in Slovakia last year reached €1.75bn over more than 73,000 contracts. For the first six months of 2013 the equivalent figures were €822m and just over 36,000, supporting the view of the chair of the statistics committee at the Association of Leasing Companies of the Slovak Republic that market volumes would be down by less than 5% during the first half of the year.
This is very much in line with the experiences of CSOB Leasing in the Slovak market, which had a pro rata increase in contracts from 10,861 last year to 6,115 during the first half of 2013 and revenues of €164m between January and June, compared to €322m for 2012.
Richard Daubner, chairman and chief executive of CSOB Leasing believes the health of the market is improving due to an improvement in credit risk criteria applied to start-ups and low equity companies as well as limited availability of zero down-
payment.
"Some segments – such as used cars sold through bazaars – have been abandoned by a number of leasing companies due to huge impairment costs not covered with sufficient margins," he says.
The business-to-business sector is investing slightly less compared to previous years as a consequence of decreasing economic sentiment as well as a shortfall of energy projects, he continues.
"Current macro predictions of 2014 are positive as a result of expected growth of the German economy.
"Of course, the Slovak economy is open and mainly dependent on the development of the German economy. Business trends in the last few years were to restructure financing and find better efficiency rather than to make new investments. Financing of the retail segment in the future is going to be significantly affected by car importers' decisions."
Competitors
Daubner says his firm's main competitors are bank-owned leasing companies, although he also observes increased influence of captives on the leasing market – an approach that is relatively new in the truck business due to cross-subsidy of revenues between captives and manufacturers.
"Indirectly, the government supports initiatives related to a centralised register of tax declarations and registry of consumers' identification car numbers, which are going to make our business more effective. The Slovak government also supported us in the creation of a client credit database that will be soon interconnected with the bank credit register."
Over the next two years, CSOB Leasing has contracted €175m of special financial products with beneficial financing conditions with the Council of Europe Development Bank and European Investment Bank. It will also seek ways to interconnect offers for business entities within CSOB Group in Slovakia and to remain its preferred partner for lease products and other financing products from CSOB Financing group, he concludes.
According to Patrick Zehetmayr, head of client coverage at Erste Group Immorent, the Central and Eastern European leasing
market has now settled at a much healthier level, which provides a sound base for more balanced growth in the future.
Declining volumes
Overall new leasing volume of Erste Group Immorent in Austria, Slovakia, Czech Republic, Hungary and Romania (plus Croatia and Serbia) amounted to €1.2bn in 2012, down 9.2% on 2011 compared to an overall market decline of 12.5%.
"We expect Austrian leasing activity to continue to improve in 2014, mainly in the municipal and SME segment," he explains.
"Most Slovakian leasing companies are in sound financial health due to stricter risk management and a more differentiated assessment of the quality and resaleability of the leased asset.
"In Hungary, both investors and financiers are still cautious and have limited risk appetite, which doesn't support significant new business volumes. We expect that market to remain stagnant for some time to come.
"Last year and 2013 have marked a turnaround for the Romanian leasing market after three years of dramatic falls in new volumes, although the market is recovering at a slow pace."
Zehetmayr says that due to the challenging environment, €252.6bn of total new leasing volumes were granted by the firms represented through Leaseurope in 2012 (a drop of 2.6% compared to 2011). "Mild growth in leasing activity was recorded in Slovakia, Romania and Serbia. The Austrian leasing market did not grow last year, but is now on an upward trend again."
Hungarian car leasing activity has stabilised after several years of decline, which is also the case in Romania where a number of lease companies have exited the market, explains Deutsche Leasing's Georg Hansjuergens.
"We have seen a drop in volumes in Austria and some major defaults in the construction sector, while the Czech small business sector is still feeling the effects of the economic downturn. It's very difficult to estimate what will happen in the Hungarian market – the national bank has launched a programme to swap bank and lease lending into the domestic currency and EU subsidies also have a major impact on the leasing market."
He suggests that leasing has become more of a niche market in the region. "Major lease companies have withdrawn from some countries, so the competitive climate is very different compared to five years ago," he says. "We see lessors moving closer to their parent banks and tighter regulation of the banking industry will impact the leasing industry over the next five years. However, I would expect to see slight increases in most markets over the next 12 months."
Christian Piringer, managing director of SGEF Alps & SEE says figures for the first six months of the year show a slight increase for equipment leasing in Austria and a slightly larger decrease in the car leasing market. He describes the potential for growth in the Hungarian leasing market as limited.
"Some of the Austrian-based leasing groups with a strong presence in Central and South-Eastern Europe have seen substantial changes over the last 12 months," he says.
"Hypo-Alpe-Adria Bank and Leasing Group was nationalised and Volksbanken was nationalised and the international group sold to Sberbank. Some other Austrian-based leasing groups reduced their presence and engagement in some of the CEE/SEE countries." He adds that SGEF has benefitted from the integration of the Sogelease network.
"The most significant development in the Hungarian lease market is the decrease in the number of lease companies," says Piringer.
According to Vorles Morlot, general manager BRD Sogelease, the Romanian leasing market contracted by 16% in first half of 2013 compared to the same period last year on the back of declining vehicles sales and low demand for equipment financing.