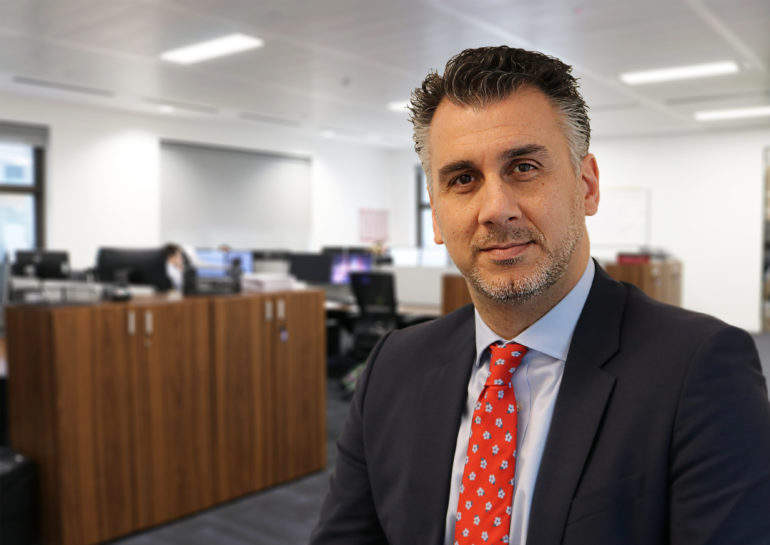 Broker-induced finance in the leasing industry has continued to rise so far in 2017. Vincenzo Scalzone, recently appointed head of broker at Hampshire Trust Bank, speaks to Leasing Life about the importance of brokers, challenges facing the leasing industry, and his mission in the role.
"With lots of innovative plans in the pipeline to develop the asset finance division, this is an exciting time to join the bank and I am looking forward to being able to help the business to the next level," Vincenzo Scalzone, head of broker at Hampshire Trust Bank, tells Leasing Life.
Scalzone was appointed to the role head of broker in May, joining Hampshire Trust Bank from Shire Leasing, where he was head of supplier sales.

"I was impressed by the team's drive to further enhance and improve the service it provides and its ambition to create a unique proposition for brokers," he says.
In this role, he says he will help improve the service that Hampshire Trust Bank provides to intermediaries, streamlining its processes and procedures.
He explains that Hampshire Trust Bank intends to roll out an online interface for its brokers to provide greater flexibility. "Over the next few weeks, we will be introducing the first phase of our online front-office system," he says. "This is designed to give more flexibility and support to our brokers without losing the human touch that characterised our success."
Loading ...
According to Scalzone, the three major issues impacting the asset finance industry are the economy, competition, and leadership-succession planning.
He adds that political uncertainty has made businesses more cautious, but stresses that brokers can play an important role in helping to secure assets.
"This is an uncertain time, both politically and economically, and this means that businesses may be more cautious about investing in assets such as new IT equipment, plant and machinery or vehicles," he says. "However, in an environment such as this, brokers can add real value for clients as they have knowledge of the market and access to a range of finance deals."
Technology has increased competition in the asset finance and SME funding landscape, according to Scalzone. The rise of peer-to-peer lenders, and digital funding platforms are among the new entrants he says are causing disruption.
"Technology is facilitating new entrants in the asset finance industry, such as challenger banks, peer-to-peer lenders, hybrid financial service providers and digital financial services platforms, which is increasing competition in the market," he says.
He notes that brokers are learning from new technology, due to fintechs, and developing their origination engines to become more effective. "The challenge is to provide something different to your customers. For us the focus is on improving service and building scalability," he says.
Leadership is one of the main challenges in the leasing industry, according to Scalzone. He says many businesses lack a succession plan, and need to improve awareness in order to encourage younger people to join industry.
"We need to work together to encourage more young people into the industry by raising awareness of the fantastic careers and broker businesses out there. We see interesting deals come onto our desks every day; as an industry we should do more to highlight this," he says.
The amount of asset finance secured through brokers has grown significantly in 2017, according to the Finance and Leasing Association. Broker-induced finance grew by 25% year-on-year in the first quarter to reach £1.47bn (€1.68bn). In the 12 months to March 2017, broker-induced finance increased by 16% to £5.44bn, and by 25% year-on-year in March to reach £615m.
Scalzone says intermediaries are growing, and reveals that Hampshire Trust Bank plans to increase its broker panel. "From our perspective, what we can say is that we are growing our broker panel and we are continuing to see intermediaries thrive and grow right across the UK," he says.
Scalzone says a marked increase in regulation, has resulted in some consolidation in the broker market. "Over the past has year, I believe that increased regulation has resulted in a rise in consolidation in the broker market," he says. However, he stresses that this has not affected the deal volume. "In terms of the number of deals, there has been no impact. We are continuing to see a strong pipeline of deals coming through," he says.
Scalzone explains that Hampshire Trust Bank sees compliance as a key part of its operations, and that the bank is keen to help brokers in this area. He says Hampshire Trust Bank aims to provide full financing for both hard and soft assets, as a "one-stop shop" for brokers.
Scalzone says his role at Hampshire Trust sees him tasked with broadening its proposition in both asset classes and financial products.
He believes Hampshire Trust Bank must support brokers for it to increase its market share. This is part of his role, and that there are "no plans to develop a direct asset finance proposition".
Hampshire Trust Bank turned a profit for the first time since 2014, achieving £4.4m in pre-tax profits for 2016. Scalzone tells Leasing Life that the asset finance division also performed well over the same period.
"The asset finance division has experienced significant growth, with the loan book doubling to £112.1m in the year ending 31 December 2016, compared to £56.1m in 2015. We have had a strong start to the year, and we continue to drive improvements that help us to grow our business," he says.
On the state of the asset finance industry, Scalzone is confident. He believes confidence in the UK economy is strong, and that there are opportunities for brokers and SMEs. Scalzone adds that Hampshire Trust will announce new products as 2017 progresses.
"We will be deploying a suite of new products and tools over the next six months, which we hope will add to the current buoyant mood in the market," he says