News
Bibby FS provides £1m asset finance to outdoor media advertiser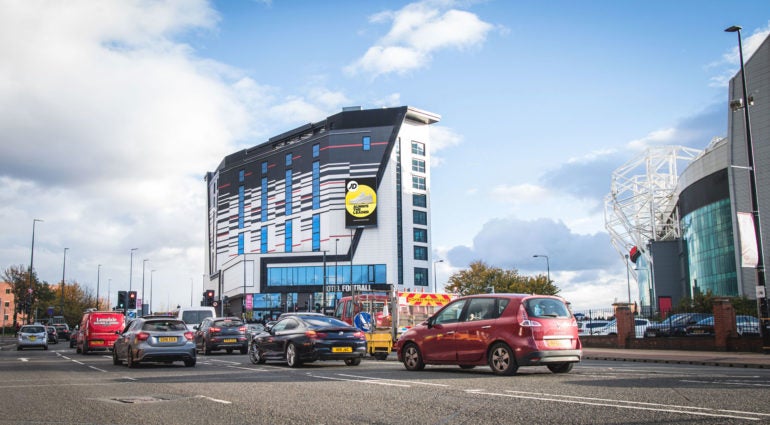 Bibby Financial Services (BFS) has provided a £1m funding facility to Open Outdoor Media (Open).
The funding line includes invoice finance and hire purchase facilities, so the business can access working capital and finance new projects.
Founded by entrepreneur Mike Smith, Open is an out-of-home media business that specialises in digital media advertising. Based in Liverpool's city centre, the business provides advertising banners and digital screens to brands looking to reach audiences in high footfall locations. Its clients include JD Sports, Jaguar Land Rover, and Netflix.

Open's has premium advertising sites across the UK, including two large external displays at Hotel Football's Old Trafford location, which can reach an audience of just under 3 million in a four-week period.
In addition to the signage in Manchester, the media advertiser is also set to launch two large screens at the Wembley location of BoxPark.
Working Capital
To help support new projects, Open needed access to extra working capital and sought funding options with Langtons Corporate Finance, who introduced the business to the Corporate team at BFS.
Bibby FS structured the flexible funding package so that Open can bridge the gap between invoicing and awaiting payment from customers. It will also help the business purchase essential business equipment from its overseas suppliers, allowing OPEN to focus on pursuing growth opportunities.
Mike Smith, managing director at Open Outdoor Media, said: "Here at Open, we love what we do, but it was becoming increasingly difficult to get our hands on the equipment we needed to take on new projects and grow. There was a clear payment gap between funding new projects and waiting for payment.
 "Working with Langtons Corporate Finance and the Corporate team at Bibby has opened our eyes to the different ways that funding can help. The Invoice Finance facility was put in place promptly and they were always on hand to answer our calls. Choosing BFS as our funding partner of choice will allow us to access the equipment we import from the USA at a faster pace and with greater ease, ultimately allowing us to better serve our clients."
Luke Fitzsimmons, corporate manager – North West, BFS, said: "OPEN has experienced impressive growth and has worked with a number of high-profile businesses across a multitude of industries. We dedicated time getting to know Mike and the team at OPEN to ensure we structured the right combination of Asset and Invoice Finance to support the business in the most beneficial way possible.
 "While purchasing equipment can often prove challenging for SMEs, it is even harder when the assets you need are imported from overseas. The funding line will now provide OPEN with access to cash within 24 hours to help them meet payments and make important purchases, as well as chasing payments to free up time. With the facility in place, we're anticipating the business's continued success in the near future."