News
Handelsbanken Edgbaston backs Mechatronic for warehouse robot leasing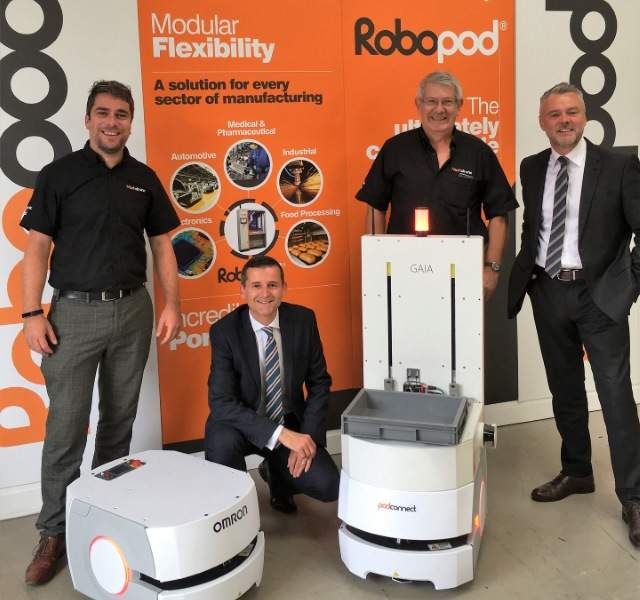 Handelsbanken's Edgbaston branch in the UK has entered a vendor finance agreement with Birmingham-based Mechatronic to offer leasing on warehouse robots.
The "Try Before You Buy" scheme offers leases for between one and three years on Podconnect autonomous intelligent vehicles (AIVs) – mini-robots that can assist with warehouse logistics, built around the company's modular robotics platform.
The basic hire package includes an AIV equipped with a 40kg-strong platform, and also includes on-site set up, mapping the area of operation and setting basic movement instructions. AIVs can also be reprogrammed for a different set of tasks at a later time.

The vendor finance agreement was put in place by the team at Handelsbanken Edgbaston in Birmingham, led by asset finance manager Lee Garry and corporate manager Alan Perry.
Chris Gibson, general manager of Mechatronic and subsidiary Robopod, said: "Handelsbanken was first off the mark to proactively help us with the development of the AIV hire scheme. They have worked closely with our business to find the right products and solutions, providing the financial backing required to enable us to offer AIV to a wider audience."
Handelsbanken's Perry added: "We are delighted to have been given the opportunity to assist Robopod with their AIV hire scheme. Having listened carefully to the client our aim was to provide a financial solution that fully met their needs and supported this innovative scheme."
Loading ...