News
Dara Clarke, White Clarke Group passes away, aged 65.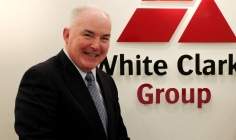 Dara Clarke, chief executive officer of White Clarke Group, passed away on Sunday 25 May, after being struck by lightning while hosting a charity golf match in Watford the preceding Thursday.
Clarke's career in financial services can be traced back to 1973, when he became group internal auditor at United Dominion Trust. Six years later he was appointed finance director of 3i's Irish subsidiaries.
In 1981 he joined Barclays Mercantile Credit's fleet leasing subsidiary, Dial Contracts, and two years later he was appointed financial controller and treasurer at Mercantile Credit Ireland, a position he held until 1987.

During this period, he was also divisional executive and director of Barclays Mercantile.
In 1987, he spent the year as general manager and finance director of Motor Auctions Group, a position he held concurrently with his role at Barclays.
In 1991 he became a partner at Dublin based specialist financial services auditing firm Cullen Clarke, where he specialised in assisting new asset finance start-ups, reconstructions, mergers and acquisitions, as well as advising international groups on business transformations – especially making use of leading technology process re-engineering.
In 1992, alongside business partner Ed White, Clarke began investing in many technological start-ups, automotive service companies and specialist financial service companies under the umbrella of the White Clarke Group.
Since this time, he helped grow White Clarke Group into a multinational company operating in over 30 countries with a staff of 500.
Most recently he spearheaded the expansion into an office in Beijing in 2013, and the company was named the most popular industry software firm by the Leasing Committee of the China Chamber of International Commerce in the same year.
Outside of asset finance, Clarke was a keen golfer and an avid supporter of the Irish Rugby team.
The White Clarke Group described him as a "larger than life personality," adding; "Clarke's professionalism and expertise wrought a massive influence in the European asset finance industry."
He is survived by his wife, four children and three grandchildren.