News
De Lage Landen names Stephenson as new CEO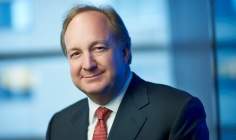 William Stephenson has been appointed chief executive officer and chairman of the executive board at De Lage Landen. He is the first non-Dutch national to hold the top job at the lessor.
Stephenson joined De Lage Landen in 1987, and went on to hold a number of positions, including most recently chief commercial officer, where he was responsible for each of the company's global business lines.
Commenting on his new role, Stephenson said "I am proud to lead our company into the next phase. It is through our diverse culture, perspectives, and opinions that we are able to create solutions for our customers that not only meet their expectations for today, but also anticipate their market needs of tomorrow,"He added "I started in sales and very early in my career learned that if you listen to your customers and understand what it takes to be successful in their market, you become more than just a provider of capital. You become a trusted partner."

As well as working at De Lage Landen, Stephenson serves on the Board of Directors of the US Equipment Leasing and Financing Association (ELFA). He has replaced Ronald Slaats, who left De Lage Landen in September 2013.
In March, the company reported net profits had reached €402m in 2013, and the company said it intended to build on this with, among other things, "a strong commitment toward both global and local customers."