News
Element-Arval appoints vice president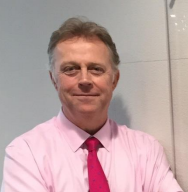 The Element-Arval alliance has appointed a vice president responsible for supporting multinational accounts between Europe and Element's sales teams in the United States, Canada, Mexico, Australia and New Zealand.
Richard Middleton works under the responsibility of Alessandro Pigazzi, Arval
International business office Director, in charge of the management of the Element-Arval alliance from an Arval perspective.
Bart Beckers, chief commercial officer of Arval said: "In his role, Middleton's main tasks are to facilitate the coordination of our global, European based clients between the
Element and Arval organization, align on the products, services and value proposition we offer, while continuously supporting them to have a better understanding of the North American fleet industry, specificities and best practices. This is a key role to reach the objective we share with our partner Element: always better serve our clients, throughout their geographies."

Jon Parker, executive vice president of Enterprise Sales for Element said: "We are very excited at the opportunity to strengthen our well-established Global Business Development team. Middleton joins a cohesive team which includes members located in North America and Latin America. This is a wonderful opportunity for us to develop our products and services for the benefit of all of our clients."
Established in 1996, Element and Arval are the founding members of the Element-Arval Global Alliance, the longest standing strategic alliance in the fleet management industry and with more than 3m vehicles in 50 countries.
Founded in 1989 and fully owned by BNP Paribas, Arval specializes in full service vehicle leasing.  Element Fleet Management is a fleet management company headquartered in Toronto, Canada, with 2,900 employees covering the United States, Canada, Mexico, Australia and New Zealand.
Loading ...
In January this year, Alain Van Groenendael became chairman and chief executive officer of Arval, while Miguel Cabaca remains in charge of UK operations as UK managing director.