News
Largest leasing companies revealed by Leaseurope for 2017
The largest leasing companies have been revealed in the 17th year of the Leaseurope list.
The largest of the large has seen Societe Generale Equipment Finance top the list in 2017 for leasing volumes.
The ranking provides a yearly update on new leasing volumes and portfolios of the largest leasing companies in Europe, and it is the sixth year the french lessor has topped the list.

This year, 72 companies participated, where 64 are a parent or stand-alone companies (bank-related, captive or independent leasing companies) and 8 are classified as subsidiaries.
Firms are ranked according to the value of their new contracts in 2017. The figures are shown in the attached tables, on a consolidated basis covering the parent and standalone companies only.
These parent and standalone companies reported new leasing volumes of about €156bn, with 34 companies reporting volumes of over €1bn. The average contract size (for all asset types considered together) was €36 200 in 2017.
Companies are located in 20 different countries including both EU and non-EU member states.
Leaseurope said all European leasing firms are invited to take part in the survey, but participation is on a voluntary basis.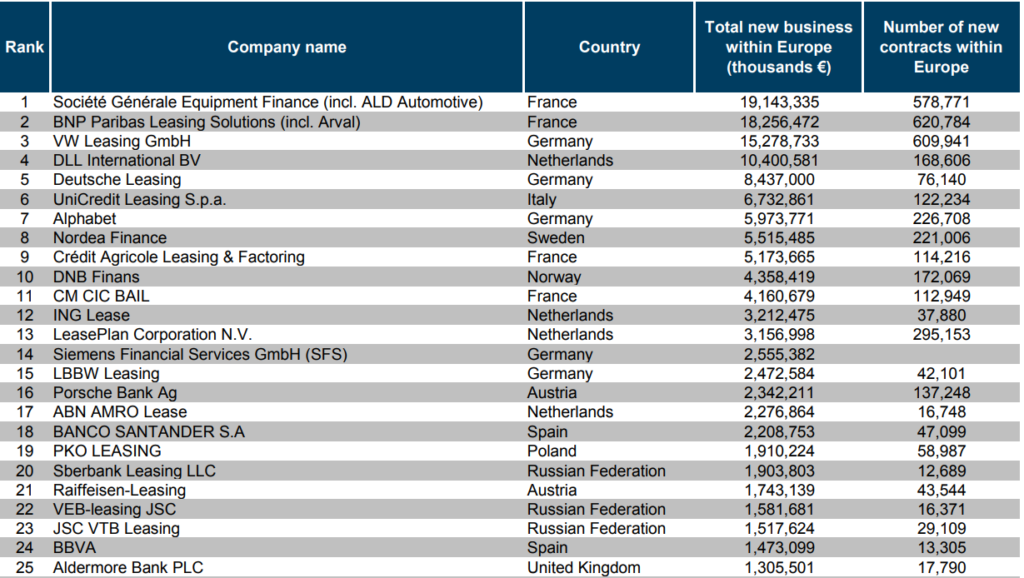 The news and growth of the businesses involved chimes with future expectations.
In February 2018, Leaseurope and leasing consultancy Invigors published the results of the Leaseurope/Invigors European Business Confidence Survey, conducted in December 2017.
The December findings show a positive outlook for the European leasing business for the first half of 2018, encouraged by robust growth prospects for the European economy.
New business volumes in the first half of 2018 remain positive in line with previous Leaseurope research, with 80% of those surveyed expecting new business volumes to increase, while just 5% anticipate a decline.
Respondents' expectations on the level of bad debt are mostly stable, with over 60% of participants forecasting that bad debt will remain unchanged over the coming 6 months while 22% anticipate a decrease.