News
Small growth for European leasing – Leaseurope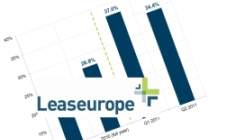 Total new leasing volumes were up 0.7% to €251.9bn over the 12 months in 2013 compared to the same period in 2012, according to Leaseurope's 2013 Annual Statistical Survey.
The level of outstanding contracts also grew 0.6% from €729,440.5m to €733,686.4m in 2013.
With €238.4bn, new equipment leasing volumes, including vehicle leasing, made up the vast majority (94.6%) of total new production, and marked a 1.9% increase on the year before.

Vehicle leasing grew by 5.1%, while new leasing volumes for equipment alone (excluding vehicle leasing) fell by 3.6%.
Hire purchase also saw a marked increase (13.57%) from €50,182.9m to €55,199.2m, with the number of contracts increasing 8.7% to 642,369.
Both markets performed better in the second half of the year than the first six months of 2013, and overall the figures confirm those published in March by Leaseurope's as part of its preliminary European market results.