News
Lord Mitchell tells NACFB – leasing key to UK recovery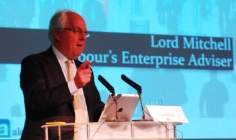 Labour peer Lord Mitchell told attendees of the Finance Professionals show in London "asset finance is key to the UK's recovery".
Lord Mitchell, who started working in asset finance 39 years ago and founded three leasing companies during his career, was speaking at the event organised by the National Association of Commercial Finance Brokers.
Addressing delegates, Lord Mitchell spoke about the value of asset finance as a driver for the economy and how without investment in new equipment business the UK would be uncompetitive in global markets.

Lord Mitchell is Labour's enterprise advisor and said he hopes to use his position to highlight the role of alternative finance in making the UK's industry competitive.
He said: "My role is an opportunity to make the case for equipment leasing."
He went on to say demand for leasing exists among small businesses, citing a recent YouGov survey which showed 20% of SMEs had used equipment finance to fund their business.
Loading ...
First in last out
The survey showed the same proportion of respondents had not used traditional finance because of the high rates charged.
Lord Mitchell said the UK needed to address the difficulties in accessing credit faced by SMEs and said: "We need to make sure that SME lending is not the first to go and the last to recover in a crisis."
Lord Mitchell said for this reason businesses should be encouraged to explore alternative funding options including asset finance and added "a bank manager turning you down is not the end of the conversation".
Lord Mitchell also cited a report from the National Audit Office which said UK SMEs will need an additional £22bn (€26bn) in funding over and above what is currently available by 2017.
He acknowledged help will be provided by the British Business Bank, launched by the coalition government in October and set to become active in April 2014 with up to £10bn in funding available, but said it needed to be "bigger and better".
MP Toby Perkins, the shadow minister for small business, added if alternative finance only picks up the banks' slack then the lending market is not really competitive.
Conservative MP Anne-Marie Morris, chair of the All Party Parliamentary Group on micro business, said the government was supporting alternative small business lending through Business Finance Partnership which gave a £20m funding tranche to peer-to-peer lender Funding Circle in late 2012.