News
Manufacturing leasing changing: Grigoreva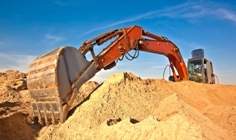 Digital equipment and the internet are making fundamental changes to business, according to Natalia Grigoreva, strategic marketing director of De Lage Landen, who spoke at an Invigors executive briefing on Manufacturer Finance.
The internet and digital equipment are now providing remote access, new sales and marketing avenues, greater access to data and changing customer expectations, she said.
Grigoreva also noted a number of other trends impacting the machinery market: automation, globalisation, regulation, digitalisation, environmental awareness, increased volatility and the costs vs solution.

One area she touched on was 3d printing. According to Grigoreva, this field offers potential opportunities to lessors by providing an easy way to proto type components, create cheap spare parts, and use alternative materials.
Grigoreva was joined at the conference by Patrick Gouin, global head of strategy and business optimisation at Société Générale, Richard Guilbert, Invigors partner and Richard O'Donohue, director of business development EMEA at Dell Financial Services.
Gouin spoke about value creation from a lessors perspective, and his overriding theme was to treat a lease like a joint venture.
Explaining, Gouin said: "The vendor finance relationship is based on the tried and true concept of adding value to the strategic business plans of each of the partners."
This all starts by listening to what the customer needs he said, and noted the lessor should have a relationship with the vendor, with the dealer and with the customer.
Looking ahead, he outlined the need for more experienced sales staff at lessors and sales support, true business developers, specialised credit managers, experienced collectors and focused portfolio managers. Gouin added they needed to focus on areas including people and pricing management, IT, risk and strategy.
Guilbert spoke about building a successful manufacturer programme. For this he recommended looking at what a manufacturer was trying to achieve. Each manufacturer will have its own aims, but he suggested increased sales, higher revenue per item, ancillary product attachment rates, cost savings, customer information were typical aims.
He said it would be a mistake to make: "A decision to use finance (or target a manufacturer) without thinking about its strategic position," and compared the websites of a number of manufacturers to demonstrate the different levels of emphasis placed on finance by similar companies.
O'Donohue addressed key trends in technology, the impact of these, and how to deal with them. O'Donohue compared 1998 to today, noting the rise in mobile technology, the speed of change, and the changing relationship between work equipment and home equipment.
To combat this, Dell has changed its offerings to become an end-to-end solution provider, on top of providing hardware.
He added that IT is changing rapidly all the time, making it hard for non IT companies to compete on an even playing field, though he added there are areas, such as new markets, distribution financing and bank funding lines, where Dell works with other financers.