News
Ryder signs fleet deal with packaging company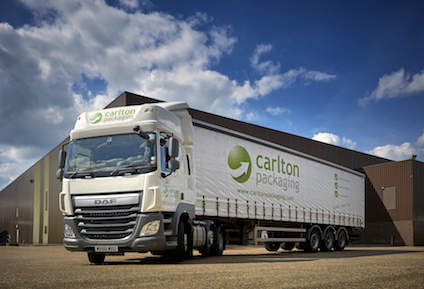 Fleet provider Ryder has signed a deal to provide two 18-tonne curtainsider trucks to Carlton Packaging, a Milton Keynes-based packaging company.
Carlton Packaging was founded 22 years ago, and designs and supplies packaging materials and processes for fulfilment operations across Europe.
The agreement will see Carlton lease the curtainsiders for three years, in a move it claims will improve the capacity and efficiency of the fleet. The Ryder-supplied vehicles have bodies that are 4 feet longer than those they are replacing.

Barry Smalley, senior operations manager at Carlton, said: "With the business growing, we turned to Ryder for a truck on spot-hire. We were happy with the speed of delivery and quality of service from Ryder.
"Improving our fleet to meet our customers' needs was one of the smarter services we offer. We're excited to have Ryder to support us with the speedy growth." Ryder said that the leased fleet will come with a full maintenance programme.
John Murray, Ryder sales and marketing director, said: "Carlton Packaging joins the growing list of businesses that have realised the benefits of leasing vehicles rather than owning them.
"Partnering with Ryder allows Carlton to focus on serving its customers. We look forward to supporting their continued growth."