News
Younger vans strengthen LCV values – Manheim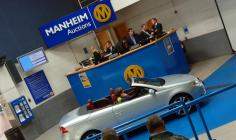 Average values in the UK's light commercial vehicle (LCV) market reached near-record levels of £4,735 in April, according to motor auction house Manheim.
The company's latest Market Analysis Report showed a £132 average increase, accompanying a 111-mile fall in mileage to 80,191, and a decrease in age from 65 to 63 months.
Matthew Davock, head of LCV at Manheim, said: "The auction halls up and down the country have remained healthy during April, but the Bank Holidays and the Easter weekend did have an impact on the footfall at auction centres during the month.

"However, this was offset by the fact that online performance remained very strong and we have seen some auctions sell up to 30% of the vehicle stock via Simulcast, our online bidding technology."
He added: "Despite the slight decrease in buyers at auction during April, many of the people that I have spoken to are reporting that the first three months of 2014 have been the strongest that they have seen in five years, with many of them keen to stock up and replace sold units.
"When comparing the year-on-year values, 2014 vehicle prices have remained very strong and we continue to see a great appetite in the market for older age, older mileage stock."
Elsewhere, in the car derived van (CDV) sector, the average age for vehicles in April increased by 4 month to 61, with mileage also growing from 69,982 to 70,128 month-on-month.
Consequently, according to Manheim, despite CDVs dominating auctions with 42% of total vans sold, the average price fell from £3,667 to £3,499 in April.
April's second largest segment in terms of volume, the small panel van sector witnessed an average age fell from 74 to 68 months, while mileage rose from 78,832 to 87,925. Overall, the changes were credited by Manheim with producing a £313 rise in values to £4,444.
James Davis, head of commercial vehicles at Manheim, said the company's analysis showed the "traditional seasonal slowdown" in Easter had been compensated by price increases.
Despite this, he warned: "It is important that we look far deeper at stock profile, as there has been a significant reduction in volume during April, along with a contribution of older vehicles at auction, as these older, lower mileage vans are good news for buyers because they are an attractive price point.
He added that a widely forecast increase in quality and the falling vehicle ages: "Will have a positive impact on the average selling prices as we enter the summer."