Fitch Ratings: Prolonged Chinese Auto Market Slowdown Could Affect Ratings
A prolonged Chinese auto market slump combined with structural trends reshaping the industry could affect the ratings of Jaguar Land Rover (JLR; BB/RWN), Ford (BBB/Stable) and General Motors (GM; BBB/Stable), Fitch Ratings says. However, a decline in Chinese new vehicle sales for one to two years would be unlikely to trigger immediate downgrades.
JLR, BMW, Daimler (A-/Stable) and Volkswagen (VW; BBB+/Stable) derive a significant portion of their income and cash flow from China. In particular, dividends received from Chinese joint ventures (JVs) represent a material share of Daimler's and VW's operating cash flow.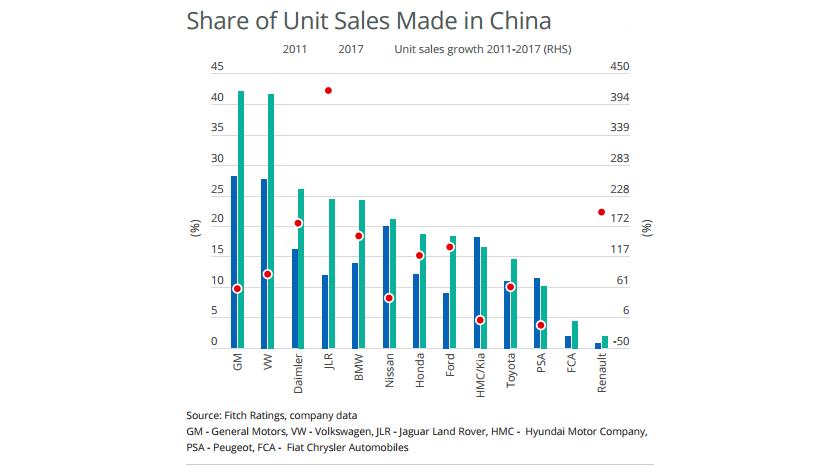 We believe that the German manufacturers remain well-positioned and expect them to outperform the overall market in the short-term. China has also become a significant source of earnings and cash flow for US and Japanese manufacturers, and so a sharp and prolonged deterioration of the Chinese market would be negative for these groups' financial profiles.
Nevertheless, German and Asian manufacturers have sufficient headroom in their ratings to accommodate a temporary and moderate sales decline in China.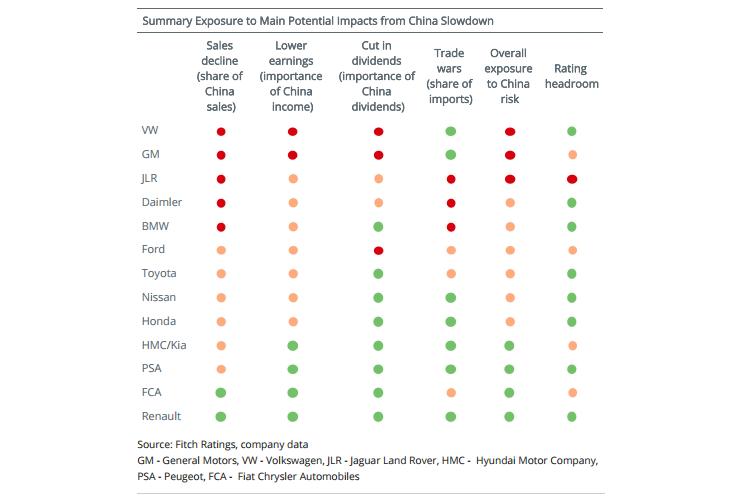 We expect Chinese new vehicle sales to remain flat or grow slightly in 2019, curtailed by moderating macroeconomic growth expectations, rising household leverage and policy uncertainties in the first half of the year.
This would be a modest recovery from the 4% contraction in 2018, the first-ever decline in the Chinese auto market, but a significant slowdown compared with double-digit growth rates seen earlier in the decade. We also expect the environment to remain competitive, with significant pricing restraint to avoid loss of market share.
Long-term growth prospects for new car sales remain robust thanks to China's growing middle class and rising disposable incomes, favourable demographics, improving road infrastructure and a better product range.
Chinese long-term growth potential could, however, be disrupted by the evolving customer attitudes towards car ownership and the development of car-sharing and ridehailing, as well as growing environmental concerns. The expansion of the used-car market may also play a role in replacing some new car sales.
Recent changes in Chinese import taxes have affected the underlying demand pattern for new vehicles and pricing, hitting several manufacturers' profitability. JLR, Daimler and BMW are the most at risk of changes, or indications of potential changes, in global tariffs because of their material share of China's vehicle imports. Other automaker groups either have their production mostly localised in China or do not derive a significant portion of their sales from the country.
All manufacturers remain at risk of the Chinese market's unpredictable growth prospects, which can change abruptly because of unforeseeable political and international trade decisions. Government intervention is a pivotal driver of the Chinese automotive market and can take numerous forms, including fiscal stimulus, a cap on vehicle registration plates, tighter emission regulation or
decisions to curb or, conversely, ease foreign investment.
Our report, 'Potential Impact of a Chinese Automotive Slowdown on Global Carmakers', is available from www.fitchratings.com or by clicking the link above.