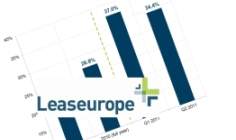 The Turkish Association of Financial Institutions (AFI) has joined Leaseurope as its latest full member with immediate effect.
The President of Turkish Association of Financial Institutions, Osman Zeki Özger said: "Thanks to this new cooperation with Leaseurope, AFI, as the umbrella organisation of leasing, factoring and financing institutions in Turkey, aims to make a significant contribution to the development of the leasing sector in our country.
"Through our membership of Leaseurope, we hope to gain input on the European leasing sector while sharing new and comparative data and gaining experience and know-how that will be mutually beneficial."

Earlier this month Drive Software Solutions, the technology company manufacturing for its 'Drive' software system, and McLagan, a consulting wing of Aon, joined Leaseurope as associate members.
And in June, Fraikin Group chief executive Pierre-Louis Colin and mLeasing chief executive & President Mieczyslaw Wozniak joined as members of Leaseurope's board.
Talking about AFI, Enrico Duranti, managing director, ICCREA Banca Impresa said: "The expertise of this important player, which represents a vast and growing market, will prove particularly valuable in our work and allow us to further raise the profile and visibility of our industry across the board."