Blogs
Electronic signature is a true transformer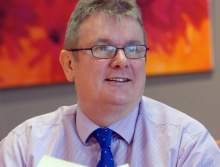 Nigel Williams remembers the first steps toward electronic signatures in UK car finance
When I read in Motor Finance about finance companies launching and trialling electronic signatures I was in two frames of mind. First, I was pleased that, following the launch of this technology by Black Horse six years ago, another finance company has introduced it, but at the same time I was disappointed it had taken six years!
It was almost exactly nine years ago that I was in Las Vegas at the 2004 National Automobile Dealers Association conference looking at how the US market was using point of sale technology. Having already established e-Quips (Electronic Quote and Input Proposal System) in the market as the leading internetbased system, Black Horse was looking to keep ahead of the competition.

ronically, it wasn't at the conference but in a music shop that I experienced electronic signature using a pad for a credit card purchase – it was a eureka moment as I instantly recognised the potential for point of sale finance.
The recent consumer credit changes meant HP documents were running into many pages, causing problems with delivery, signatures and fulfilment. E-sigs offered a solution to all those problems and more. On returning to the UK, it immediately became
an obsession to sell the concept and get it developed. It wasn't easy; there was no existing model to compare with.
A few couriers used it, but apart from that it was very leading edge. However, combining it with other improvements, it became part of a major technology project. Approval was given and the development, which took many months, commenced.
The benefits were spread across the whole of the supply chain.
For the finance house, it meant reduction of processing and fraud costs. Cases could now be loan boarded without anyone having to intervene from quote, through proposal, signature, payment, registration and storage, which were all done electronically.
For the dealer, the problem with paper disappeared. Everything was stored electronically and version control meant that only the most recent version of the document could be signed. There would be no more errors.
And finally, customers were taken through a transparent process giving them more confidence in car finance.
All these benefits are still true today, so why has it taken so long for others to follow suit? Black Horse developed this on the back of several years' successful profitability, but by the time it was becoming established the credit crunch had hit and development budgets would be curbed for all the players and, of course, it ensured that the cynics who thought the technology would never catch on had their day.
Now it is firmly established with Black Horse. Some dealers I spoke to recently couldn't speak highly enough of it, citing the technology as a key reason for dealing with the Lloyds-owned finance company.
Now other finance providers are seriously looking at it. However, there are still some issues to be resolved. MotoNovo have
gone a stage further by developing a true digital signature, not just a digital image. This means that the expensive pad is not
needed and a new battleground could be established as tablets and smartphones could come into play.
Although nine years have passed since I bought that CD in Las Vegas (Lou Reed's 'Transformer', if you are curious), progress has been slow, but I have been cheered by the news that it has proved to be a real winner and I'll be watching the next moves
with a great deal of interest.
Nigel Williams was a board member of Black Horse until 2009 and has since been developing new initiatives for BEN, the automotive industry charity