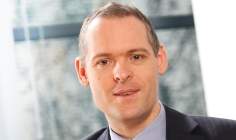 Richard Brown talks to the new team in charge at Glass's about changes to its forecasting offerings and its plans for 2014.
Over little more than a year, vehicle valuation firm Glass's has put new management in place, including Richard Parkin, appointed as director of valuations and analysis in October 2012, and Ian Tilbrook, joining as managing director from ING Car Lease UK in April 2013, alongside Daniel Parnell, head of fleet and finance sales, and working under Martin Stewart, the former chief financial officer at BSkyB and EMI, as chief executive.
Part of parent company and brand EurotaxGlass's, alongside Schwacke in Germany and AutoVista in France, Glass's – "the brand in the UK," Tilbrook says – is now in a position of reinvestment.

With EurotaxGlass's migrating to the UK from Zurich, the company is now making "significant investment in technology and people to re-establish our position in the UK," explains Tilbrook. "We're in good shape with a lot to do."
And what it has to do is capitalise on the "growing demand for data", which the company supplies in three categories: valuations; vehicle specifications; and service, parts and repairs. It supplies these from a database which has run for 30 years, through the epyx 1Link platform, to multiple OEMs, dealerships, fleet providers, insurers (including underwriters) and third parties.
In particular, Glass's is supplying manufacturers with increasing levels of data, on a European scale, so that they may "know more about their own products", and electronically supply dealers with live spot valuations.
"Our traditional stronghold is with independent dealers and smaller franchise dealers groups," says Parnell, and those with close ties to independent lenders such as MotoNovo, Close, Moneybarn and Private & Commercial Finance.
A "growing activity", according to Tilbrook, is third parties accessing Glass's data to "power their engines" in parts of the consumer world now using valuations.
By bringing all these facets together, he says, there is an "extremely strong recognition of an alternative" in the valuations market. In its data supply to lenders, Glass's has "always been able to compete on hire purchase" and, as PCP grows, "we'll develop our presence," says Parnell.
To aid this development, Glass's will launch a forecast product formally around the end of the first quarter of 2014, and is currently talking to its client base about the methodology, valuation and transparency of the product, and trialling it with leasing companies. Tilbrook promises the product will have a range of features expanded from Glass's current provision, taking "the world of forecasting to a whole new level" while introducing "significant changes to the way in which we market our business".
Bringing in specialists
Among the fresh blood at Glass's, Ed Hummel was also hired as sales director in October 2012, from his position as head of corporate operations at Honda, part of what Tilbrook calls the "sectorisation" at the company, a process of bringing in specialists.
Parnell heads up "a team working purely, nationally on the fleet and sales market"; Steve Worrell joined as head of dealer sales from CAP Automotive, as did Parnell; Johnny Miller, joined from Fiat to lead the OEM arm; and Lee Coomber, another of the
"trio of transfers from CAP", came aboard, and now oversees partner activity at the company.
"What we have now is functional expertise," says Tilbrook. "We can talk to sectors about their own markets. We can be much more suitably equipped to talk about the trends and the needs of those sectors. Market intelligence is now coming back to us and is leading the product delivery, which has been incredibly accelerated from this structure.
"Even though we are still behind the market with product development in some of these sectors, despite organising ourselves better, we have seen a significant traction in revenues, because people are buying quality data from us. And because we have a much greater understanding we are able to market a product in a much more sensible way."
Glass's has also reorganised its editorial and data teams under Parkin's direction with four car editors, LCV editorial, and leisure (caravans and motorcycles) editorial now reporting to an analytical team.
Assisted by the acquisition of a statistical analytics engine – technology to reshape data analysis – Parkin says his editorial team is able to move away from setting values and drawing market conclusions "around a bunch of conversations" among traders.
"A better way to do it is to take available data: roughly 80,000 auction observations a month and 250,000 retail asking values a month," continues Parkin. "Everybody has a stall in the common shop window of the UK, which is the internet, looking at what everybody else is pricing at. The pricing and the trends tend to be quite consistent.
"We leverage this techonology as much as possible. Rather than have those conversations in the marketplace about what's happening in the market, we can say: 'the data is telling us this is happening, are you feeling that?' We can get them to interpret what we're seeing. It's a much richer discussion and more valuable because you're not working on word-of-mouth."
Competition with CAP
However, beginning any vehicle valuation forecasting work in the UK means competition with CAP, which Parkin and Tilbrook acknowledge.
"We were always in the habit of analysing how well our guide stacks up with the data," says Parkin. "We started to benchmark CAP. Each month, we order specific vehicles, the most observed vehicles of the month, and take the top 100 which have coverage in CAP's Black Book. Then we compare who was closest."
By such observable data, claims Parkin, Glass's is "consistently ahead".
"This is what our customers have been telling us," adds Tilbrook. "They like the accuracy of our values.
"We feel the time is right to make more noise in this sector. We consider our values to be more accurate."
And the company has produced a series of adverts proclaiming just this. However, among the bold talk, Tilbrook adds such an approach has been taken while "hoping to provoke a bit of sport".
As for the traction Glass's already has in the market, Parnell says lenders such as Moneybarn and Alphera Financial Services are already making use of the company's values, but, says Tilbrook: "We need to widen the image perception of our values, change it if necessary."
These values and this perception hold "significant knock-on effects to our forecast product. The whole basis of a future forecast product is the accuracy of your current values. This is the fundamental starting point. You can't talk to any leasing or finance company about future values unless you have credibility on your current values."
At retail, success is now "inextricably linked" to finance, says Parnell, who estimates dealers are typically only making a 2% margin on the sale of the vehicle, therefore staking their "livelihood" in F&I. Together with Worrell, Parnell is "looking at the industry from a process point-of-view" to tie Glass's systems to finance.
Tilbrook explains such a method is part of an "amplified" offering to dealers, most notably with its Radar tool, which allows dealers access to daily, regional spot prices on all advertised vehicles.
Radar has also been launched as a smartphone application in response to what Parnell analyses as the increasing need for a local-geographical function of the tool, to provide the worth of a vehicle in a given postcode.
Which, again, ties back to finance: "What I'm seeing more of is a creative use of trade-in prices and listed prices in order to make financing work," says Parkin. "I looked at actual finance-approved data, which had a transaction price in it.
"I looked back, at the ones I could match, at the retail asking price. In the south, there was, generally, no difference. It tends to be all over the place, some up, some lower. In the north, it was generally up 3%. What's going on is somebody will need 20% deposit, the only money they've got is in the trade-in: They're trying to buy a £9,500 car with a £1,500 trade-in. Suddenly, the car they're buying becomes £10,000 and the trade-in becomes £2,000.
"There's a potential risk there with the finance house: How much is it reasonable to deviate from the car price? The peak-to-trough difference in the asking, regionally, can be as much as 10%. North and south there's a sustained difference on models as common as a Ford Zetec."
On the captive side, Glass's are being asked by manufacturers to assess how the values of niche models will perform, which feeds back into their pre-planning work. To do this, Glass's began an exclusive partnership with European IT provider Autofutura in January 2013, supplying captives with software to generate their own residual values, underpinned by a database structure covering 30 countries from which a company may consolidate information on the future worth of its vehicles.
Parkin points to the potential "huge operational facility" of the system to aid the increased demand from captives to calculate fund allocations and segmented business investments.
On a capital level, the system will allow for improved governance of portfolio evaluation and re-evaluation, as prescribed by Basel III.
On a product level, Parnell believes it will meet the need for robust residual value calculations as PCP and consumer retention management continue to gain prominence, and can have dealers and funders planning for equity returns halfway through a contract, building renewed deals for customers.
OEMs "require more data all the time," adds Tilbrook and are getting "very excited" about total cost of ownership, which in turn, is a heavy influence on PCP offerings. To compare such, he says, whether their own products or those of competitors, requires data.
Again, this recalls the "wider strategy" at Glass's, which is "primarily a data company", says Parkin and partnerships with companies like Autofutura will supply "greater venues" for companies to view that data.
Different directions
Meanwhile, the company continues to branch into cars and finance in different directions. In 2012 it launched its consumer-facing site where customers can value their cars and from which Glass's can sell live lead generations to interested parties, not least manufacturers.
"We're looking at where we can position ourselves: whether we draw consumers into our own site or, with our partnerships, we plug-in our information, valuations and data to power the webuyanycars and whatcars," says Tilbrook.
The firm is also "planning to incorporate finance with a chosen partner" in 2014, says Parnell, and has "a number of proposals in from large brokers and retail banks to integrate into the consumer-facing site, potentially to provide profiles, finance calculators and links to their own environment".
There is also an extension of Radar, called GlassAnalyser, planned for launch in H1 2013 for dealers to manage daily pricing on stock, an entire forecourt at a time. It will also provide data on the length of time a car has been in stock, what a car's price is in other areas, and why that may be.
Building on the acknowledgement of the competition and the need for transparency of methodology, Tilbrook adds the forecast product will also provide a function to calibrate for seasonality – "a big headache" for lessors – and for macroeconomics, incorporating the components he expects finance companies would look at: GDP, inflation, and so on.
Tilbrook has also brought in his experience of running a book, primarily at ING and features of the product have been brought together under the consideration: "what would be the frustrations of running a large portfolio of assets heavily dependent on future valuation?"
Currently, Glass's is "speaking to a number of leasing companies to make sure what we're building is appropriate to their needs, and that will continue until the New Year." Although Tilbrook says the product could be launched immediately, the extra time will be used to finalise the additional features.
"We've waited 25 years to launch one so we can wait a few more weeks."