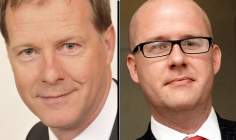 With CrushWatch about to reach its third anniversary, Richard Brown catches up with Darren Greenyer and Barry Shorto of HPI, which provides the car recovery alert and information service.
HPI has monitored the finance of cars since its establishment in 1938, when banks first became aware they might be funding the same vehicle. Since then the company has moved offices, from London to Salisbury, in the 1980s and been acquired by worldwide information provider Solera in 2008. Today, its work covers data for insurance, finance, cars, yellow metal and more.
Darren Greenyer, finance and industry director at HPI, has been with the company for six and a half years, joining from Close Brothers where he managed the provision of products and services to the armed forces and had his "first exposure to the finance world."

Barry Shorto, head of industry relations, joined the company from Skandia Life as data acquisition manager in 2003, tasked with building relationships with data suppliers, trade bodies and government agencies to source the statistical "lifeblood" of HPI.
Between them, Greenyer and Shorto are responsible for both CrushWatch, which provides information to lenders for vehicles with outstanding finance recovered by the police, run in conjunction with the Finance & Leasing Association's Vehicle Recovery Service and the ACPO Vehicle Crime Intelligence Service, and the management of HPI's ongoing and upcoming data projects.
Richard Brown: What's happening at HPI?
Darren Greenyer: Looking at the finance sector in particular, understanding the make and model of the vehicle, understanding the value of the vehicle in terms of the underwrite and loan-to-value, and the provenance of the vehicle to understand whether it's already been financed by another funder, whether it's been written off, stolen; all of the key, flag indicators within the HPI Check.
As an extension, we offer a suite of reporting via our Monitor product. Monitor is a desktop tool and will flag issues with a vehicle: Is it a dual-finance? Is it subject to a plate transfer? Is it potentially a paper car? The whole premise is about becoming much more efficient in the process of finance, but making sure finance companies are limiting their risk in financing.
We are looking to launch the next stage of Spec Check, which was launched in November 2012. Through our parent Solera, we have a sister company in Switzerland which has access to all of the manufacturer-build data; specific customer-build data against vehicle registration. If you were to go on to the Mercedes-Benz website, choosing an E-Class, you wanted rear-tinted windows, the sport pack; we can provide all of that information to the customer.
Why would that be important to a finance company? Their loan-to-value. If you did a normal provenance check valuation, you'll get the standard valuation of that vehicle, not taking into account all of the additional factors that may well have been selected by the customer at purchase. It will give much greater visibility of the true cost and worth of that vehicle, it will help them work with dealers, getting truer loan-to-value. It will also help remarketing of vehicles. In the odd case they will need to take a vehicle back, it can maximise the value of that vehicle.
The next phase of the launch is in early April, starting with particular makes and models – Mercedes-Benz, BMW, Audi, Mini – and we will be adding manufacturers as we go.
Brown: How's the collaboration with Towers Watson going? How did it come about?
Greenyer: We partnered with Towers Watson, actuarial experts within the insurance sector, a couple of years ago. Insurers, historically, have always looked at the vehicle almost as a secondary concern for the customer. The non-gender piece which came in at the end of last year has made insurers re-evaluate the need for data around the vehicle. The phrase 'big data' is a bit of a buzz at the moment.
Towers Watson is able to look at our data and interpret key component factors which will have a bearing on how a premium should be rated against a vehicle.
Brown: More generally, what's the car insurance market like compared to finance?
Greenyer: From a pure, business perspective, there are more and newer opportunities in the insurance market, just from their need for more granular data and their interpretations of that.
Is the insurance market growing? As that's directly correlated to the number of vehicle sales, the answer's probably no. Are the insurers which are out in front looking to extend their reach and their lead? Yes, and they're the ones which are certainly much more pro-active in accessing new data.
The insurance market is interesting because there are lots of different ways to access it. We provide data to insurers and software providers who then provide solutions to the market. There's a web of how the insurance market accesses data.
Insurance is very much about lots of data, delivered quickly, efficiently and constantly. This is not to say it's not like that in the finance sector where the focus is much more on the accuracy of the data.
We're gaining traction, we've got a relatively strong market share in both finance and insurance now but we are gaining more traction within the finance sector than ever before. Where HPI adds value is in amending the data: a DVLA clerk's keystrokes will sometimes lend itself to a "3.5m tall" BMW or confusion between a three-door or five-door vehicle, having an impact on both the level you would wish to insure a vehicle or the loan-to-value.
We have amended, at the last count, 215 million pieces of data. We see ourselves as a cleanser of data. Our data quality bears that out, from anecdotal customer feedback, especially new customers.
Those that are working with other provenance providers sometimes do so because they have a much greater focus on credit referencing, which we don't do. Automotive data is what we do.
Brown: How's the campaign against car mileage correction firms going?
Barry Shorto: Our Direct-Gov e-petition against mileage correction firms calls on Government to bring in legislation to outlaw such firms, people can sign up to this by visiting www.hpicheck.com.
Greenyer: From our perspective, HPI holds 160 million mileage records and we're forever expanding that. Mileage is still very much the easiest way to extract value from a vehicle so we're very much keen to promote the need for mileage correction firms to either be stopped or legislated. At the moment, you can search online and find one within ten miles who'll do it relatively cheaply.
We have a robust data table of mileages and we are encouraging people to use that and stamp out mileage correction firms that maybe aren't as legitimate as they ought to be.
Brown: What difference has the participation of the Metropolitan Police Service made to CrushWatch?
Shorto: The Met has made a big difference, most obviously with the number of vehicles being seized under the scheme. They've been on board since September last year.
Of the vehicles they have seized, there is a higher proportion on finance than the general experience. The value of their vehicles would also, I expect, bear out to be higher than the average.
In perspective, the scale of what they're doing, the metal they are potentially repatriating to lenders, they accounted for a quarter of the total and they've only been with the scheme for four months of 2012.
Brown: The City of London and Suffolk police forces also joined in 2012. How have they performed?
Shorto: We've now got 44 forces on board, with very few non-participants. Clearly, looking at City of London; smaller force, smaller volumes, but very good quality of vehicle. Other forces have specific waves of
operations.
Brown: Has the FLA-DVLA arrangement begun to feed in data?
Shorto: Yes, that started in the back-end of 2012. The volume isn't as high as police seizures. The scope of that arrangement is for untaxed vehicles. It's a very good addition of strategic value.
Brown: Are more people reneging on their finance?
Shorto: I don't think the numbers suggest that but, if people do default, the scheme at least helps lenders to exercise their ownership rights.
Brown: How does the CrushWatch process work?
Shorto: It's very simple. Individual forces organise it differently but, typically, a force would contract out to a number of pounds the storage of vehicles which are seized, under section 165/A of the Road Traffic Act 1988, for having no insurance or other factors such as no tax. It's those pounds, locally, when they book a vehicle in, who will perform the CrushWatch check, which is free of charge to them. In some cases that check is built into their own back-office systems, rather than them logging on to an HPI website.
One of the benefits is that finance companies actually have to do nothing additional or different in terms of registering their interest in a vehicle. If they are opted into the scheme, which the vast majority are, then the pure fact a vehicle is recorded on our finance register will mean a local pound booking the vehicle in, if that hits the finance register, will automatically trigger an alert via e-mail to the finance company, telling them the date and the time the vehicle was booked in, which force under whose jurisdiction it was seized, and the name, identity and location of the pound in possession of the vehicle.
Previously, when we started this whole scheme, if a finance company was by chance ever contacted by a pound, local authority or police force about a vehicle they had in their possession, they didn't know where within the finance company to go. There wasn't a central point of contact. One of the points of the scheme is there is a dedicated mailbox for alerts to be sent to and a dedicated individual on the team to handle those. You've got knowledge and experience of how to handle the alerts and also building up the connections and the contacts with the pounds who are responsible for a lot of the volume here, to contact them and say 'Yes, this is our vehicle', and agree a course of action.
After that, different courses of action are available to them. The principle that underpins it is that there is no primacy. If the registered keeper of the vehicle arrives at the pound and stakes claim to the vehicle, then they have a right to do that, the finance companies accept that. But if the finance company wants to collect, they will be aware they need to do that as quickly as possible. Certainly, the alert we send out reminds them of that case-by-case to make contact quickly. If they want to collect, it's in their best interest to collect as quickly as possible. Different finance companies will have their own process in place for doing that.
Equally, they may be the legal owners of the vehicle but the process will be more of a prompt for them to enter into dialogue with their customer than to go directly to the pound and repossess the vehicle.
richard.brown@timetric.com