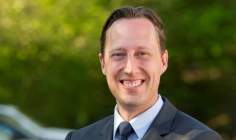 Andy Gruber of Alphera Financial Services talks to Richard Brown about the advantages of being an independent backed by a manufacturer, opportunities in UK car finance, F&I consultancy and life as partner to Aston Martin.
According to Andy Gruber, director of Alphera Financial Services, the decision by the BMW Group to begin operating an independent lender goes back to the year 2000 and the separation with Rover Group. BMW wished to remain linked with Rover but on the dealer-side of the business and adapted to local markets.
In 2003 the BMW board decided to extend its services beyond BMW vehicles and, by 2006, Alphera was launched in the UK with an added importance placed on the broker channel. Alphera is a sister brand to BMW Financial Services, sharing UK headquarters in Hook, Hampshire, as well as Mini Financial Services and Alphabet, BMW's multi-marque fleet arm, under the umbrella of BMW Group Financial Services (FS). It is also the captive finance partner to luxury brand Aston Martin.

Gruber joined Alphera in February 2012 as director, joining from his role in Munich as head of sales and marketing at BMW Group FS. Previously, Gruber has held strategic sales and product positions within the Group in Singapore and Melbourne.
As a well-travelled man in the business of BMW, he has a lot to say on the advantages of independent lending and a possible peak of subvention, and began his tenure 18 months ago by speaking of the "huge opportunities" in UK.
"And I was right!" he says now.
Those opportunities apply across the car finance market. From its independent position, Alphera supplies finance on any marque of car "apart from new BMW Group vehicles". The Alphera portfolio, which includes used BMWs, covers a "relatively fair representation" of the car market by other brands' share.
One of the company's strengths in lending, believes Gruber, is its PCP offering, helped by the relationship with Alphabet which, as a fleet company, is used to set marketplace residual values: "It's an even split between brands as part of that Alphabet exercise in setting the RV," he explains.
Richard Brown: Do you still believe there are opportunities in UK car finance?
Andy Gruber: Of course. From an industry point of view we are starting to see the reversing of the trend, coming out of the
crisis. There's a lot of positivity in the marketplace at the moment. While penetration rates are very high and car sales are high, a lot of those sales are artificially induced through a lot of support and campaigns. Once we get into a more stable economic situation, there will be a lot more natural growth.
Brown: How does Alphera measure how well it has met those opportunities?
Gruber: There is the internal aspect, which is represented in the volume and number of cases written and the quality of our business. Our arrears, for example, have never been lower. From the external point of view, it's answering the question: Are we helping our partners sell cars? And are we supporting them with the service levels they require? And the answer from the feedback we are given is overwhelmingly 'Yes'.
Brown: Dealership research Alphera conducted in May 2012 put finance penetration at around 72% of car sales, have you seen that change?
Gruber: On the new car side, we are almost reaching an optimum level. It's exceeding 72%, again fuelled mainly by subventions from manufacturers. In some brands, it's in excess of 80%. On the used car side, it is high but there is still opportunity to increase penetration. Used cars are being sold differently from new cars and mainly focused on straightforward, five-year HP with low interest rates. As a result, we as an industry are missing out on opportunities, losing custom to direct lenders.
PCP product and a new-car focus in the used-car segment would benefit dealers and lenders, equally. Somebody in the BMW Group mentioned: For a manufacturer as well as a dealer, as soon as you sell one new car, you have to realise you are in the used car business. That link between new and used is not always there and is not always the same. Retention and the sales process are different, that divide needs to be bridged to get an optimum result on both sides.
Brown: What can be done to strengthen the new-to-used link?
Gruber: Apply the same approach. There is the tendency – and this might be controversial – that used car customers are still treated as second-rate customers at dealerships. In the new car segment, you have to embrace all possible customer prospects and used car customers need to be treated as your future new car buyers.
There needs to be focus on retention of used car customers, focus on using all finance tools available to support. PCP is a great product to push retention and encourage contact between customers and dealerships at the end of the contract. That's one of the reasons we're so passionate about opening up PCP to all customers.
Brown: Alphera also mentioned last year consumer habits were changing because of the internet. Are habits still changing or have we reached the point at which habits have changed and this is what the market must deal with?
Gruber: No, we're still only at the very beginning of that journey. A very large proportion of customers do their research online before they enter the showroom. They've almost made their mind up. The whole sales process needs to embrace this fact; getting in touch with the customer much sooner and happening online. With the advent of the iPad and smartphones, customers will be more empowered, which will perhaps make it challenging for the finance sector to work with customers with more information at their fingertips. Again, dealers need to embrace that trend and ask how that can be used as an advantage.
Brown: How do you go about encouraging dealers to do this?
Gruber: One of our approaches to the market, what we think is a differentiator, is what we call 'F&I consultancy': We're not just there to push volume; we're there to work with our partners to optimise the processes of selling our products. This happens in training, review meetings, and general discussions with our partners, where we will try to make sure customers are aware of the benefits of PCP on used cars, and then make a decision on what product suits their requirements. Then, where the decision is made, to push PCP into the used car section of the dealership, we would work with partners by training the sales people, providing information and initial launch campaigns.
Brown: Again in May 2012, Alphera found 37% of dealers favoured PCP. Has there been any movement on the figure?
Gruber: We haven't repeated this research, but some dealers have embraced PCP and are pushing it, some dealers are still struggling with the required change in the sales process and going away from the traditional, five-year HP, low-interest rate offer. It's optimistic to hope for a dramatic change within a year, but we are supporting partners to get the change into the used car area of the business. Even if dealers decide to change the sales process, to introduce PCP, this is not an overnight change. The culture within the dealership-side of the business would have to change fundamentally. It goes down to incentives for sales staff, to the training, even to the internal sales processes. It's a comprehensive change required in each dealership and requires full dedication from the top as well.
Brown: How does the broker-side of business operate?
Gruber: The important thing is to know your broker partners. We're in a lucky position; we're working with some of the best brokers in the country. We see the brokers as strategic partners helping us expand our reach into geographical and vehicle segments we jointly agree on. A clear set of rules, and the monitoring of those, needs to apply on both sides. Both sides need to know each other's requirements to then be able to meet each other's expectations. We are very clear, for example, not to accept subprime business.
Brown: Has there been a difference in broker behaviour after the pullout of ING?
Gruber: It was rather noiseless. Other lenders just came in and filled the void. Although, I don't think any other lender out there has reached ING's level of involvement in the balance payment space.
Brown: What are those segments you are looking at?
Gruber: In line with our role as finance captive partner to Aston Martin, the premium sector is something we're looking at.
Other than that it's very much down to working with franchised dealers, the small-to-medium-sized dealerships. Based on our F&I consultancy approach, we can make a difference. That's what we're passionate about developing.
From a vehicle point of view, we cover the market very well. Based on the captive know-how that exists within our Group, we are probably the best positioned independent lender to play in the £40,000-plus segment, but we are clearly also a well established player in the volume end of the market. However it's more important to find the right partners and provide the right financial products to meet the requirements of both our partners and our end customers.
Brown: How is business as captive finance provider to a premium brand?
Gruber: It's like any captive arrangement. We are Aston Martin's official financial services partner. We work very closely with Aston Martin sales colleagues to bring joint finance offers to the marketplace and we support the network and provide training. However, the requirements of such high-end customers in the segment are different. Balance payment products play a much more important role. Therefore, you need more knowledgeable business managers to sell these products. There's a bit more training requirement on our side.
In the used car segment there's demand for these super luxury cars, as we're seeing through our remarketing results. Overall, it's an exciting, though competitive, time.
The recession-proof nature of this sector results from the strengths of brands such as Aston Martin and Rolls-Royce that have such a strong pull with customers. There are always customers who strive to be associated with these brands. In addition, the financial strength of that customer segment means they are less affected by a recession than other segments.
Brown: What are the advantages of being an independent lender?
Gruber: It's the ability to work across brands and to provide a single point of contact for partners to work with. This is very much in line with the requirements of our dealer partners, who are all striving for simplifying their internal processes and system landscapes.
Brown: What's the split between franchised and independent dealerships in Alphera's business?
Gruber: Within the dealer landscape, it would be very heavily based, over 80%, on franchised dealerships.
Brown: How close do you think we are to the apex of manufacturers' subvented deals?
Gruber: Subvention is a bit like a drug and it can be very difficult to wean off it. If you look at the States, these high levels of subventions have never gone away and have now become the new norm. The debate within the industry is: Are we ever going back to the level of subvention pre-crisis or is this level the new norm?
We will need to see some significant economic growth to be able to wean ourselves off the current level of subventions. A lot of the new car opportunities are currently closed to us because of the subvention levels currently provided by the captive companies, but if subvention levels in new cars die down again, we would be in an ideal position to win more of the new car business.
richard.brown@timetric.com