Features
Putting their money where their mouth is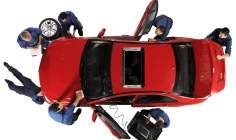 Lending its own money, Stoneacre has entered the subprime market. Richard Brown talks to group F&I manager Steve Reynolds
Last month, new and used car dealership group Stoneacre launched Stoneacre Financial Services in a joint venture with Marsh Finance, offering subprime car finance both to consumers through internet leads and to those who have had finance applications rejected at any of the group's dealer sites. The group currently runs 29 retail outlets and finance will be run from a centralised head office in Thorne, near Doncaster.
The group already has six years' experience of brokering subprime deals behind it and will be lending its own money to consumers. Although continuing to broker both prime and subprime finance for other lenders, Stoneacre won't be offering its subprime facility to other dealers. Steve Reynolds, Stoneacre's group F&I manager, explains that while finance will be offered in conjunction with other lending, the group will not encroach on the business of others.

Reynolds says the group is "more than confident" in such an investment in finance and is backed by the confidence of 18 months' "substantial growth in both units and revenue" passing through its showrooms, coupled with a rise in online custom. In the first few months the group will operate without specific targets for finance penetration, but with a facility to lend a fixed amount each month, although "we've been told there's more available", Reynolds adds.
Other car dealer groups have attempted, with varied success, to marry car retail to finance, but the partnership with Marsh appears to be an industry first, on top of which, says Reynolds, the group will also offer subprime finance on light commercial vehicles and look at the possibility of a non-prime PCP product.
"I think we're the first to do a joint venture of this nature," says Reynolds. "It's something I've been looking at for two years."
While there is an obvious risk for a dealership moving from commission-based income to a profit share, Reynolds is confident in the white-label set up with Marsh, the Rochdale-based finance and portfolio management house.
"We've been looking at projections and figures on suppositions to make sure that we're going into it on a sound footing," he explains.
"We're doing it with what we consider a more-than-minimal risk.
"What it means for us is not only do we have a solution to make sure we sell the vehicle, and don't lose the sale, but also a future income from the finance source, as well.
"From Marsh's point of view, they're providing all the expertise on the finance side but it frees up extra funding into their greater portfolio."
Stoneacre and Marsh have experienced an intertwined success, first working together as Marsh expanded its channels, staff and technological capabilities in 2005-2006. Stoneacre became one of the first dealers to use Marsh's scorecards to accelerate and refine its lending decisions, giving Marsh a national reach in return. Speaking during the launch of Stoneacre Financial Services, Reynolds added the scorecard developed by the two companies would allow them "to underwrite deeper than ever".
Richard Brown: Why launch a finance operation?
Steve Reynolds: It's a step forward. Instead of having a subprime offering and no cars, or cars and no subprime offering, people are going to start bringing the two together. So you've got a one-stop solution.
Stoneacre, as a company, is pushing innovation. We see this as a big step in our portfolio. Subprime, through the general economic conditions at the moment, has become more prominent and we want to take advantage of that.
We're looking after our customers, not just for the first car but bringing them into the Stoneacre family; "customers for life" is a catchphrase we use.
Brown: You must be pretty confident to lend your own money.
Reynolds: We want to be sure the risk is right, but we feel confident everything's going to come to fruition. We've not gone into it for a quick profit margin today; we've gone into it for a sustainable growth over a period of years.
Stoneacre's risk is mitigated by the expertise and robust scorecards that Marsh has developed for this market. This is not a leap of faith for Stoneacre, we are entering the market leveraging all the knowledge and experience of an established and trusted non-prime lender.
Brown: How did the partnership with Marsh start?
Reynolds: We've been using Marsh as a finance provider for the past eight years. The relationship had grown to one of trust. Andrew Marsh has come up with a fantastic joint venture model. It was profitable for both companies and it seemed a natural progression to move the relationship forward. Marsh provides a full service provision from cradle to grave. There is no capital expenditure required from us to start up the venture; all our money can be used to lend. We get the benefit of their intellectual property and the use of their market-leading systems and processes.
Brown: What finance products will Stoneacre offer?
Reynolds: Straight subprime at the moment. We wouldn't rule out moving into other fields in the future. We've already started to look, tentatively, at a subprime PCP offering, which is unique, and we're also just launching a subprime offering for light commercial vehicles.
Brown: What's customer reaction been to the offering?
Reynolds: Positive, in every way, shape and form. We're giving customers the chance to rebuild their credit. If you give a commitment to the customer to provide finance, then they're committed to pay, to make the deal right.
Brown: How will you measure the success of the project?
Reynolds: We've got a full fleet of management reports which come through to our accounts department daily.
Marsh Finance is watching on a daily basis. As a dealer, we've got an immediate outlet for the vehicle, as opposed to traditional methods whereby a motor finance company tries to dispose of a vehicle. We're on hand to help right away.
richard.brown@timetric.com