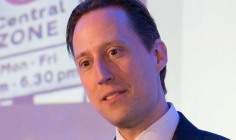 How was business for Alphera last year?
2013 was our biggest year ever, a record year, and overall a year that started with some hesitation and anxiety, but ended up surprising everybody. There were great results for the industry and we were no different. We had tremendous growth at the latter end of the year, which carried over into 2014. So that positivity continued, which is great.
What was the driver for the good 2013?
Interestingly on our side it was mainly the factor of flexibility and working with the partners to find ways to help them sell cars. I think that was the main thing. And we found the partners very receptive to that. I think the new car market was driving a lot of the growth in general but also, as a result, the used car market increased as well.
However there were some challenges with having to get rid of batches of cars on the used car side and it's also sometimes good to have finance partners that you can work with to put together specific campaigns to help them solve their short-term problems as well.
It's been mentioned by some manufacturers that in future the quantity of cars needing remarketing after a PCP deals ends could cause problems, Would you agree?

It's a double-edged sword. On the one hand, having more opportunity to find used cars in the marketplace and working closely with the partners to help them sell cars is a good thing for Alphera. Where it becomes a potential challenge is on the residual value (RV) side of things. Obviously with PCP the lenders are bearing the RV risk and of course the more supply, the more pressure on the residual values and the market values that we see.
The market always works very anti-cyclical unfortunately. In times of crisis the RVs are actually being adjusted downwards; in times of boom the RVs are being adjusted upwards, because that's what the current market is showing. However, historically it's always been proven that in times of crisis you should always become more aggressive with RVs because two-to-three years after the crisis the RVs will be higher than what people expect. And, of course, in times of boom there's a possibility that the market values in three years' time will perhaps not be reaching the heights that have been forecasted today. So there's always that to consider.
So your work in 2013 will stand you in good stead for 2015 and 2016?
There will only be an issue with market values in three years' time if supply outweighs demand. So as long as demand continues to grow in the same vein as the supply then there's potentially no issue, and at the end of the day we actually think, from Alphera's point of view, that there's a lag on the used car side, so we think there is a pent-up demand which will be released into the
marketplace. The big question is will that pent-up demand outweigh the added supply that we will be seeing coming into the market in two or three years' time. Now that's the big question. And no one really knows the answer I think.
What other aspects of 2013 are noteworthy?
On the balance payment product side there was actually some good growth there, which followed ING's exit from the marketplace. So we managed to establish ourselves really well in that market overall as well, which tied in rather nicely with our captive role for Aston Martin in the UK, where the balance payment product is an important product in that customer segment as well.
Moving onto 2014. The SMMT predicted only 1% growth in car sales, but already sales have outstripped that. Were you caught by surprise by that?
Well, there was an immense positivity in the marketplace which spun off the good end to 2013, and to some extent it wasn't surprising to see that continue. However, I spoke to a number of our partners at the Alphera forum and other events and there was generally a consensus that last year's results would not be able to be repeated.
Last year the growth was 10.8% in the marketplace and even the people in the business and in the trade said we won't be able to repeat this result in 2014 – and now I think everybody is surprised about the degree of growth and positivity that's still visible out there.
I think it is now accepted by the public, that the times are good now and it's OK to go out again and buy a car and that is now filtering through. And coming back to what I said before about the pent-up demand on the used car side, I think we will see more and more of that release into the marketplace in line with the positivity that's now being irradiated by everyone in the media around the strength of the economy.
In the UK we are now outpacing the US; within Europe we are leading the pack, so from that point of view 2014 will be another fabulous year for the industry I think.
Would you therefore predict that 2014 will be as good as, or even better than, last year?
I think it will be about the same. Last year the growth percentage of 10.8% on the new car side was outstanding. And to say we will be able to surpass that would be optimistic, and it could go either way. But I think it would be in the ballpark.
And does that cause any problems for your business model?
The positive from an internal process and, obviously, headcount point of view is a lot of our processes are automated. From that point of view that extra volume would be cushioned by the automation so it wouldn't necessarily lead to a dramatic need for recruitment or adjustments there. So I would say no.
Which of you partners stand out for you?
We are working with Aston Martin so from that point of view that is, I think, a real honour to be working with a brand like that in the UK. Aston Martin is a fabulous brand to be associated with and an interesting customer base as well. And I think there's generally a really good fit between the two brands. So we are very excited there.
With regards to the other brands and partners you actually don't want to single out anybody, because for us a smaller family-owned dealership is as important as the big PLCs that we are dealing with, so we're very happy with the mix of partners we have.
Going back to Aston Martin, there is a perception that high-end vehicles are self-financed. What makes a customer in this segment use finance?
Interestingly I think it's just a matter of very astute business people, seeing finance as a better way to manage their cash flow. Then obviously using the money they are not spending in cash buying a car to invest, and get a better rate of return, than the interest rate they are paying on their finance in the first place.
So from that point of view it's not that there's the need to use finance but it's much more of a cash management tool that is being used to release funds to do something else with it rather than put it into a car.
What can you tell me about future plans for Alphera?
Well at the end of the day we just want to leverage the good work that the team has undertaken over the past years and use the strong foundation that we have now in the marketplace to jump to an entirely new level overall.
I think our PCP product is widely accepted as market-leading in the industry and I think with the advent of the FCA, dealers will also have to offer PCP products more actively as part of the sales process when it also comes to used cars because the FCA wants to ensure that customers can actually make an informed decision over what is the right product for them at any given time. So from that point of view the role of the PCP product in the used car segment will change and I think it will grow in prominence. I think that is a big area of growth and opportunity.
Not really spending a lot of time on the FCA would be wrong as well. The FCA is clearly going to drive a lot of the agenda and a lot of people's businesses. The topics that the FCA will raise will keep us and our partners busy. I think the magnitude of change is still not clear to most people, yet.
What particular aspects of the industry will change?
I think at the end of the day, just focusing on the one topic, I think the systems and controls that the FCA will expect to see, to ensure that the customer is at the centre of everything a business does and is treated fairly, is going to push a lot of dealerships out of their comfort zone.
It's going to require a lot of thinking that will be new on putting the systems and controls in place to ensure that, not only the proper processes are followed, but actually that there is a control in place that they are following in 100% of the cases. This will lead to some system changes at the dealer or partner level, which will make the industry look a bit different than it is today.
Would you encourage dealers to have a more uniform approach to their record-keeping by using a uniform platform?
You have companies, like one of our technology partners Frontline Solutions, that are leading the way in trying to push their position and platform as a way to manage the regulations properly, so I think there will be opportunities for a few companies like Frontline to come in and simplify the dealers' processes and, as an extension of that, simplify the customers' processes, as that's one of the things the FCA says it's quite keen
on – to simplify things for the customer
and have them really properly and fully understand the things they are actually signing up to. And I think technology can play a key part in that.
Could the credit reference agencies help the processes by adding affordability into their offering?
I think from a customer-centric point of view if the whole process could be streamlined to make it the least cumbersome for the customers, while still getting the best outcome, I think that would be the ideal outcome. And of course I think the credit agencies have an important role to play in that as well. It's all about using existing information out there in an intelligent way that makes the whole process as smooth as possible, but while still adhering to the principles that the FCA instils.
What experience have you had with your partners in regards to the FCA so far?
The vast majority of our partners have confirmed they have obtained the interim permission in time for 1 April and so basically that first critical hurdle was taken by virtually all of our partners. That's a really good and promising start so that already puts the industry generally in a good position, so now it is all about the full permission. The landing slots are being communicated now in April by the FCA, and I think getting ready for that is going to be the next big hurdle.
Overall the industry has fully embraced the FCA and I know there have been very intense discussions around this topic held within the company. Internally we set up a big readiness project that looks at all the requirements of the FCA. We've used that infrastructure to organise a number of roadshows with our partners, and with our broker partners specifically. Feedback on those was extremely positive and I think with each one of these discussions the requirements are becoming clearer and the 'to-dos' for everybody are, I think, becoming clearer as the months pass. With the FCA's regulations being principle-based, unfortunately that means there will never be a definite list that you will have to tick off. There will always be some grey areas and I think this will be the challenge for partners, and for us as lenders, to decide what route to take grey areas.
What was the reception among partners to the actual requirements?
In general everybody understands what the FCA is trying to do: protecting the weakest customers, trying to put the customer at the centre of everything they do, and I think that combined with one of the FCA's objectives to foster competition within the marketplace as well, it's being widely hailed as the right thing to do within the industry. I think generally it's in quite a good position. The areas of systems and control and documentation and those kind of things will have to be tightened up.
What innovations do you see on the horizon, for example, telematics-driven charging?
Well I thought telematics is an interesting one because it's a huge innovation, and I think very much what the customers expect now. I think the mindset has shifted more and more to pay-as-you-go versus ownership. That is, I think, the trend we are seeing at the moment.
You just have to go up to London; fewer and fewer people are buying cars. Public transport is readily available, and a lot of people, if they actually need a car, are now using the pay-as-you-go solutions, the Zipcars etc, that are available.
In the countryside there will always be people requiring cars, but especially in the bigger metropolitan areas I think mobility solutions rather than your standard car finance approach is going to be more and more the future, and that will cause some challenges because that's a completely different model, but I believe one that needs to be fully embraced. As an example, say if somebody leases an Aston Martin, doesn't he almost buy into the mobility provided by Aston Martin? So in theory if he flies from London to Madrid wouldn't he almost expect then to get into an Aston Martin in Madrid and drive off into the sunset, and then drop the car off and off he goes again.
As another example, if you need to move something and you need a big car, then you have access to an estate car versus your Aston Martin or if for the weekend you might want to have a convertible.
It's basically: whatever your mobility needs are the customer would like to tap into that through a mobility solutions package. I'm quite convinced of that.
The mechanics of that is obviously a bit of a nightmare for lenders to figure out because it's highly complex. It requires multiple cars being used for short periods of time and how to do that in a way that will satisfy those types of customers is going to be the big question. But I am convinced that trend will just accelerate as we move into the future and the trend of usage versus ownership will see usage being the clear winner certainly, especially in the big metropolitan areas.
Aside from the challenges of constructing such a scheme, do you see it as benefitting the finance industry?
Again, in line with the FCA's motto of putting the customer first I think the customer is going to drive this change anyway. So I think it's definitely worthwhile against that background.
I think it's a definite growth sector within the industry and I think it's one that holds a lot of potential for us as a market, and it will probably be a change that takes away from the existing market and so, to avoid losing out, I think people would be wise to investigate.
What about electric vehicles?
Electric is a very good thing as well, and that leads a little into urbanisation too. In London again, I think there will be, over the next three to five years, a growth in the electric vehicle industry, where obviously an electric car is a way of by-passing the congestion charge which is one clear benefit, obviously you don't pay for petrol and you have certain tax advantages. From that point of view we expect electric mobility to be definitely on the up – quite dramatically so.
And we have things like Tesla and BMW's 'i' cars all coming onto the market now and I think that will start changing the perception that people have of electric cars in the marketplace, which is currently still not necessarily your best looking cars. These new cars, i8 and i3 and Tesla, will actually position electric cars as a real viable alternative to petrol-fuelled cars and against that background financing electric cars is definitely something that we are one of the pioneers in embracing proactively.
We have actually issued an electric vehicle campaign and I think it's the first independent finance scheme in the marketplace as well. We believe in the power of electric and we fully embrace that. Now, from a PCP point of view, clearly setting the RVs is always a tricky thing as basically it's a new car that we haven't really sold in the marketplace before.
And, especially, the topic of the batteries and the lifetime of the batteries is a big challenge there. But, again, the manufacturers like Tesla are putting good warranties in place and they are putting a lot of effort into providing customers with the confidence around those specific topics as well. So we think overall it's going to be a very good product for the industry to get into.
Tesla has now moving into business leasing in the US. Would you want anything to do with a further expansion of that into Europe?
Yes, Tesla and Alphera seem to be a very logical fit in the spirit of pushing innovation from within the marketplace and we both see a big future in electric vehicles and I think it would make a lot of logical sense for us to be closely aligned on that front. So if the opportunity presents itself I think we would definitely consider it.
How do you compete against a company like Black Horse?
Being part of the BMW Group, I think, means everyone who works at Alphera is perhaps much closer to cars than anybody else in our competitive environment because the cars are in our DNA as a company and from that point of view our slogan of "car finance from car people" really rings true. I think that's where we have been really, really successful in working with our partners on helping find innovative ways to help them sell cars to consumers.
Finding solutions that work for the dealers, for the consumers and for us in a way that requires us to know our cars and to know our customers, and actually requires us to know our partners really well, and I think we've worked that triangle very well in the past. Or you could bring in things like our flexibility in underwriting where we actually work with the dealers to get the right credit decision for the customer rather than just have a 'yes or no' situation and we want to be fair to the consumer in those situations.
What makes your PCP deal market-leading?
Basically it's a number of aspects, the terms we are able to offer, the RVs we are able to set, the processes that we put in place together with our partners to get the highest possible retention as well, because we do very much see the PCP product as a good way for our dealers to stay in touch with the customers and actually statistically it's proven that somebody who has a PCP product will return to the dealership with a much higher degree of probability than somebody who just has a standard HP with a dealer.
That's why I think some of the dealers are missing a trick in pushing the HP route in the used car market, because that's still unfortunately the mindset in the dealerships. They still see used cars as a one-off transaction versus the start of a journey with the customer that could then lead to them buying a new car further down the road. And, again, PCP is such a good and right tool for many reasons for dealers and customers.