News
35% of British people won't consider AFVs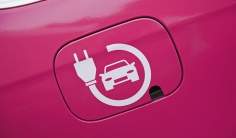 35% of British people said they would not even consider buying or leasing an alternatively fuelled vehicle in the next two years, according to survey of 2906 people by contracthireandleasing.com.
Despite the sizeable minority still not considering AFVs, the company felt the results reflected an increasing interest in AFVs. Dave Timmis, managing director of ContractHireAndLeasing.com said "Motorists appear to be increasingly interested in alternative fuel vehicles, as they look for vehicles which are cost effective to run."
"Particularly in the contract hire sector, customers are more able to overlook the typically high price tags of some of the newest alternative fuel vehicles and focus on tax and fuel efficiency benefits they offer."

At 19%, non-rechargeable hybrids such as the Toyota Prius, were the most popular AFV option, despite this type of not being eligible for a number of typical AFV perks, such as congestion charge exemption.
Liquid petroleum cars and plug-in hybrids were the next most popular options, at 12% each. Hydrogen cars were as popular as fully electric cars, at 11%, despite the fact that there are currently a plethora of electric cars commercially available in the UK and a lack of hydrogen powered options available.
In comparison, a European wide survey by Deloitte earlier in October found just 44% of Europeans would prefer to be driving an alternatively fuelled car in five years' time, and that non-plug in and plug in hybrids were the joint most popular AFV.
Contracthireleasing.com also noted some regional differences in results. For example in the North East, where Nissan has been producing the Nissan Leaf since March 2013, a higher percentage of people selected electric cars than the national average, at 18%.
Yorkshire and the Humber showed the least enthusiasm for AFVs, with 43% saying they would not consider buying or leasing AFVs, followed by Wales, at 42%.
There were also differences based on age, with 18-24 year olds the most likely to contemplate on plug-in hybrids, hydrogen fuelled cars and fully electric cars, while 25-35 year olds were the most likely to meditate on the possibility of purchasing a non-rechargeable hybrid.