News
ACF to add trainees as subprime rises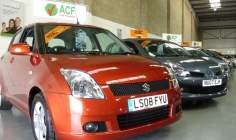 ACF Car Finance, the motor retail arm of subprime lender The Funding Corporation, is set to take on further apprentices following the "outstanding success" of the first round of its trainee scheme.
The company has also reported it is seeing more potential customers pushed into non-prime finance during sales of the number-63 licence plate in September.
At the turn of the year, ACF took on five apprentices on its forecourts for a 12-month period which would see the trainees gain a VCQ / NVQ Level 2 qualification, with the option to progress to Level 3. However, since then, two of the five have been promoted to full-time sales positions, while continuing their studies, and the company is already looking to take on a new wave of apprentices before the initial 12-month scheme is finished.

Peter Lloyd, general manager of ACF, said sales staff played a "vital role" in the vehicle supply chain. Lloyd, who took on responsibility for seven ACF dealerships at the start of the month, said there were "no limits to how far apprentices can go in the company".
Professional coverage
September regularly sees the second highest number of monthly new car registrations each year and the company has said minor credit blemishes are seeing customers refused prime credit.
Lloyd said "just about every profession is represented" in applications for finance arranged by ACF from a panel of lenders including The Funding Corporation.
Many applicants, according to Lloyd, "are in secure employment with high salaries and low borrowing commitments" but are part of a growing market for non-prime finance which has helped ACF open its first showroom in a city centre location and a third showroom around London.
richard.brown@timetric.com