News
Arnold Clark locks in rate with Motors.co.uk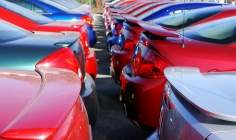 UK dealer group Arnold Clark has secured a new rate for the next two years with Motors.co.uk, ahead of the June deadline for locking finance rates with the website.
The family-run group said it will benefit from Motors.co.uk's launch of new products under its 'Smart revolution' plan, which in the past weeks have included services such as 'Night Owl', 'What's Hot' and 'What's Mine Worth?'.
Arnold Clark, who has been a client of Motors.co.uk since September 2007 and operates over 200 dealerships across the country, and claim to be the third largest dealer group in the UK by turnover.

Carol Fairchild, marketing operations manager of Arnold Clark, said the group had experienced "significant growth in leads" through their partnership with the website.
"We are delighted to have agreed this deal ahead of time and we understand that Motors.co.uk will continue to grow in strength by harnessing the support of its dealer customers. We are happy to back Motors.co.uk over the long-term," she added.
The website said feedback from its dealer customer base revealed car sales had grown substantially, an outcome which Motors.co.uk attributed to a "significant investment in product development and advertising", including the launch of a TV campaign at the beginning of 2014.
Figures from the website's sales trackers also showed an increase in both walk-ins from local buyers and telephone and email leads, with a 200% growth in sales directly attributable to Motors.co.uk reportedly witnessed by some dealers.
Andy Coulthurst, managing director of Motors.co.uk, described Arnold Clark's recognition so early on in the companies' joint TV campaign "very encouraging".
"Indeed, the strong sales uplift figures across our customer portfolio are testament to our investment in delivering on the ambition to help dealers sell more cars by better connecting local car buyers and sellers," he added.