News
BCA signs prestige remarketing agreement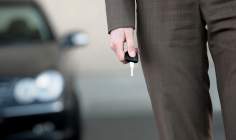 British Car Auctions (BCA) has signed an exclusive remarketing agreement with prestige dealer Drayton Group that will see the auctioneer remarket approximately 2,000 vehicles annually for the Group.
As part of the deal, BCA will begin selling part-exchange vehicles from Drayton at BCA Birmingham every Monday from 24 June, with every vehicle also available to BCA Live online buyers.
The auctions will start at 10:30am and the average selling price is expected to be around £7,000.

As was the case when it signed its recent remarketing agreement with Jardine Motors Group, BCA will provide Drayton Group with a sales programme including a strategic marketing campaign, branded e-marketing, posters and point of sale material.
'Consistent approach'
Drayton will also adopt BCA's 'Appraise, Value and Sell' system that will see incoming part-exchange vehicles appraised and valued using BCA's software.
In order to accomplish this, Drayton's staff will be provided with training by BCA prior to launch.
Drayton Group Director David Williams said "With the BCA system in place we now know we have a consistent approach to our appraisals across the Group and an accurate indication of the real value of the vehicles we take in.
"For those vehicles that do not fit our retail profile we can now start the selling process immediately."