News
BCA Logistics moves office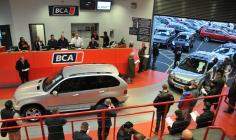 BCA Logistics, part of British Car Auctions, has moved into a 10,000 sq ft premises at 3700 Parkside, Birmingham Business Park.
The move follows two years of sustained growth, during which business volumes have grown by 30% and last month's acquisition by BCA of Yorkshire-based nkl automotive, which has become part of BCA Logistics.
However, the new premises will be populated by the 110 staff from BCA's offices in Bordesley Green and Measham.

Jamie Carr, operational director at BCA Logistics, said: "This superb new facility allows us to centralise a number of operational functions, which will provide improved service to customers through greater efficiencies and more effective and timely communication with every area of BCA's business."