News
BCA plans expansion of remarketing network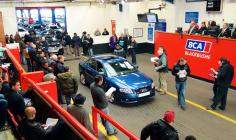 British Car Auctions (BCA) has announced a series of enhancements to its UK remarketing network over the next two years.
The plans cover England and Scotland, with the acquisition and integration of the Scottish Motor Auction Group (SMA) business.
BCA's nationwide network now includes 23 remarketing centres and will be strengthened in 2016 with the addition of a new facility at Perry Barr, Birmingham. Located between Junctions 6 and 7 of the M6, the new facility will open for business later this year.

According to BCA, the new facility will extend its physical and digital remarketing offering and will deliver a range of de-fleet, inspection, preparation, refurbishment, appraisal post-valet and logistics services. Remarketing facilities will include three auction halls and a digital auction suite.
BCA also acquired land adjacent to its existing facilities in Hampshire, Manchester and Bedford for expansion plans.
Last month, BCA Leeds officially opened for business, becoming the first of the former SMA centres to be rebranded.