News
BCA plans to list as used values recede from summer high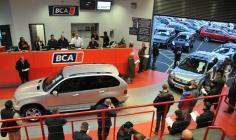 British Car Auctions (BCA) has announced its intention to proceed with an initial public offering (IPO) on the London Stock Exchange in November.
BCA said it had seen continued strong performance in the six month to 30 June 2014, with vehicle sales through its remarketing division up 10%.
Additionally webuyanycar.com, which BCA acquired in August 2013, sold over 120,000 vehicles in 2013, and BCA had grown 'rapidly' since.

In preparation for the listing, BCA hired four independent non-executive directors to its board.
Commenting on the listing, Jon Olsen, chief executive of BCA said: "The IPO of BCA is a natural development for our business and will provide us the right ownership base to continue to deliver on our strategic ambitions.
He added: "Our strong trading performance so far this year, with continuing growth in our Vehicle Remarketing Division and Vehicle Buying Division, is further evidence of our progress. Everyone at BCA is very excited by the opportunities ahead of us as we continue to grow the business in the 13 markets in which we already operate."
Car Values
Separately BCA's September Pulse report revealed the average value of a used car fell from a record £8,001 in August to £7,429 in September, marking the first fall in prices in three months.
The BCA said model mix was a significant factor in this drop, as there was a notable percentage increase in the share of dealer part-exchange models sold over the month compared to the higher valued fleet and lease cars. The company also noted volume was beginning to return to the market.
Despite the month-on-month drop in September, year-on-year values were still £422 (6.0%) above the values recorded in September 2013, with average age and mileage falling to 62.13 months and 56,809 respectively.
Former fleet and lease car values grew year-on-year from £9,182 to £9,445, despite both age and mileage increasing. The average age increased from 39.81 months in September 2013 to 40.27 in September 2014, while the average mileage grew from 44,694 to 47,263. Performance against CAP for the month was 97.46%, compared to 98.64% in the same month 2013.
Part exchange cars also increased in value year-on-year in September, from £3,760 in 2013 to £4,059 in 2014. The average age also increased year-on-year from 87.95 months to 88.69 months, however mileage decreased from 72,929 in 2013 to 70,965 in 2014. Performance against CAP fell from 97.34% to 96.09%.
The more volatile nearly new average values were also up compared to September 2013. Whereas the period last year saw cars in the segment reach an average value of £19,500, in 2014 values reached £21,468.
In September 2014, the average age of nearly new cars was 7.99 months and mileage was 8,005. Sales prices compared to CAP were 100.56%.
Simon Henstock, BCA UK operations director said; "As expected, there was some price pressure in September as a result of rising volumes and a shift in the balance between part-exchange cars and fleet and lease vehicles.
"These factors typically exert some pressure on average values and conversion rates, although demand remains strong and the best quality cars continue to achieve often exceptional prices.
"There is still plenty of volume in the pipeline due to arrive over the coming weeks and with greater choice for buyers in the marketplace, volume sellers should review their pricing strategy to reflect this changing dynamic and particularly when considering the "less attractive" vehicles on fleet."