News
BCA Pulse: July used values up 11.2%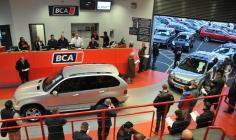 The average value for a used car at auction in July was £6,865, down 1.8% from June but up 11.2% on July 2012, according to the British Car Auctions (BCA) Pulse report.
The average car age fell by one month to 61.15 months, average mileage fell 2,887 to 56,043 miles, and average performance against CAP fell around 1%, to 95.88%.
Simon Henstock, BCA's UK operations director, said: "The summer holiday period is typically quieter in terms of buying activity in the wholesale markets, but that is being balanced by the on-going shortage of good quality, ready-to-retail stock."

By sector
The average price for fleet and lease cars was £8,780, a 0.9% drop from June, but a significant rise on the average £8,053 price recorded in July 2012.
The average mileage fell to 45,223 miles, down from 48,221 in July 2012, and the average age also fell by one month to 39.58 months, year-on-year.
Average part exchange values rose 25.1% year-on-year to £3,690, just £2 below the average value in June 2013, while the average age and mileage for the month was 87.31 and 71,474, respectively, down from 89.14 and 74, 737, respectively, in July 2012.
Nearly-new values rose sharply in July to £19,703, up from £18,360 in June, but only slightly above the average £19,332 recorded last year. BCA attributed the fluctuations to changing model mix and the low volume in the sector.