News
BCA recognised for service to LeasePlan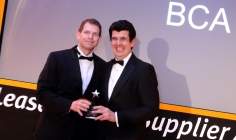 British Car Auctions (BCA), the UK-based remarketing company, has received four awards from LeasePlan including Overall Remarketing Partner of the Year, at the fleet company's annual supplier excellence awards.
The partner of the year award was made based upon the service that BCA had given LeasePlan, the world's largest fleet supplier. Other awards given to BCA were best car auction supplier to BCA Birmingham, best service provision of the year award to BCA Logistics and the supplier employee of the year award went to Ash Tariq of BCA Remarketing Services.
James Hopkins, head of remarketing at LeasePlan, said: "Across the Group, car and van auctions, outsourced back office services and logistics, BCA has provided comprehensive support to LeasePlan, making a significant contribution to a very successful 2013."

BCA Nottingham's award was the second year that they have won. Hopkins said of the award: "BCA Nottingham continued to deliver significant value to LeasePlan throughout 2013 and this was reflected in the centre being crowned Auction Supplier of the Year. BCA Nottingham won the Quarterly award in 3 of the 4 quarters last year, supporting LeasePlan in regular weekly sales as well as repatriation sales and piloting de-fleet processes."
Speaking of Tariq, Hopkins said that he had stepped up a level in 2013 after many years' service to LeasePlan and his leadership was what had helped him win the award.