News
BEN building care centre for automotive workers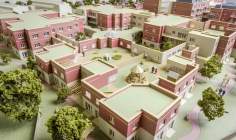 By Sebastian Clark
Automotive charity BEN is planning to build a new facility at its Lynwood Care Centre. The development is intended to give those connected to the automotive industry, as well as their immediate dependents, access to short- and long-term medical and welfare support.
According to BEN, the Centre, which has operated for over 60 years, is due to be replaced by Lynwood Village, a "state-of-the-art retirement community". Lynwood Village contains a 93-bed care centre as well as leasehold apartments and cottages.

BEN said it has secured a construction loan for the project, and it has awarded a design-and-build contract to Willmott Dixon. Construction work has already begun, and the Care Centre is due to be completed by October 2014.
BEN's director of care services Jenny Brown said BEN would continue to support existing residents during the construction phase.
The Centre will focus on dementia care as well as nursing care. It will also support younger residents with physical disabilities and those requiring respite care and rehabilitation.
Fundraising
BEN's chief executive David Main said BEN had funded the project by selling apartments and cottages. However, he warned BEN's work could not continue without outside support, saying it remains "hugely dependent" on the generosity of "all sections within the automotive industry".
In terms of fundraising BEN raised £5,000 at its annual President's Charity Golf Day on 5 September 2013.
President of BEN Joe Greenwell CBE was pleased by the automotive industry's "unstinting support for BEN".
Events and exhibitions co-ordinator at BEN Warren Neals said: "we very much appreciate that individuals have taken time out of their busy schedules to show support for BEN and everything we are doing for our industry colleagues in times of hardship and distress."