News
Bentley confirms 1,000 job losses at UK locations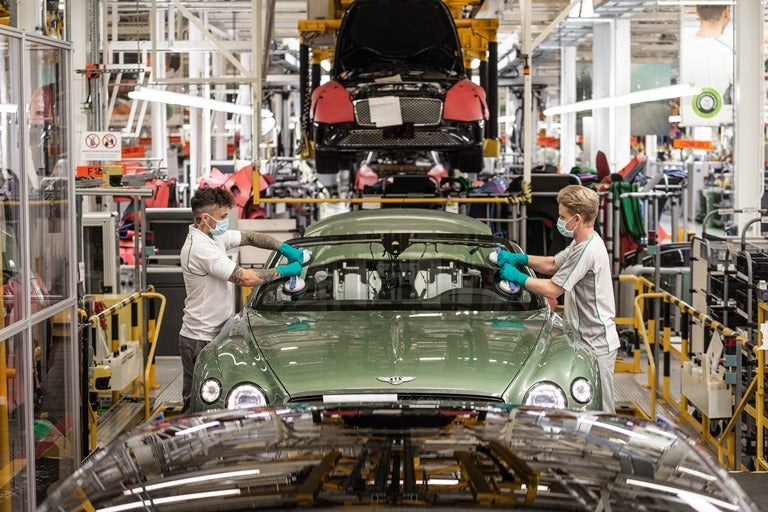 Volkswagen-owned Bentley has confirmed there will be 1,000 UK job cuts in the wake of the coronavirus crisis, which makes up around a quarter of its workforce.
The company, which makes cars in Crewe, was expected to offer workers the chance to take voluntary redundancy, the BBC said.
Chief Adrian Hallmark said last month a quarter of the company's workers had been furloughed due to the lockdown while another quarter were working from home. As first reported by ITV, the carmaker has since restarted production at its Crewe factory, but with only around half the usual number of staff.

Bentley, founded in the UK in 1919, increased its worldwide sales by 5% to 11,000 cars in 2019 but has struggled to be profitable in recent years. It completed a turnaround plan last year but now appears to have been hit by the sharp fall in demand for new cars caused by coronavirus, the BBC said.
This has seen car manufacturers, suppliers and showrooms closed for weeks, with consumers holding off on big-ticket purchases.
Car dealership Lookers announced on Thursday it would cut up to 1,500 jobs with the closure of more showrooms in the UK.
Loading ...
And Aston Martin also announced 500 redundancies on Thursday, a week after naming a new chief executive.
Union Unite described the Bentley announcement the company was seeking to make 1,000 workers redundant as another "heavy blow".
Unite's national officer for the automotive sector Steve Bush said: "This is another heavy blow for our automotive industry and its dedicated workforce. Bentley is a name known around the world for the quality of its vehicles, thanks in large part to the expertise of this highly dedicated and superb workforce.
"To ask 1,000 of them to leave the company, albeit on voluntary terms, is heartbreaking for the workforce and their communities.  We are determined to support our members during this process to do what we can to mitigate the jobs lost.
"Today's news is another sorry reminder of the battering this sector is taking, caught by a downturn in global demand which has then been supercharged by the global COVID-19 pandemic.
"It is absolutely essential that the government works with the automotive industry and Unite to bring forward the sort of sector specific support we are seeing other governments deliver, in France and Germany, because for every automotive job that goes, four more will go in the wider supply chain."
Mike Hawes, chief executive of the SMMT, said: "It has been a black week for UK Automotive with devastating job cuts across retail and manufacturing coming hard on the heels of earlier losses. Whilst the industry is fundamentally strong and agile, it is not invincible. Global industries are challenged and we need to ensure the UK has in place a comprehensive strategy to support the sector and the highly skilled workforce on whom it depends.
"As the sector strives to weather the worst storm in a generation, measures to drive cash flow, stimulate demand and, above all, maintain our competitiveness are essential. Governments must double down on efforts to reboot economies, protect jobs and, internationally, work urgently to secure ambitious free trade agreements which avoid tariffs that add onerous cost and stifle global growth."