News
Brownridge appointed Director of Mini UK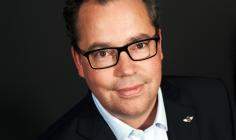 By Sebastian Clark
Chris Brownridge has been appointed director of Mini UK, assuming the role as of 1 November.
His predecessor Jochen Goller has been made senior vice president at the brand, a role which involves overseeing worldwide activities of Mini from the company's Munich headquarters.

Tim Abbott, managing director of BMW Group UK, said: "The UK is the world's second largest market for Mini and Jochen Goller leaves the brand in great shape with sales up 4% so far this year with around 30,000 MINIs already sold."
Brownridge began his career at BMW Group UK in 2000, where he has held the positions of general manager of Product and Market Planning, general manager of Marketing and Communications, corporate operations manager as well as national corporate sales manager. He has been BMW UK's marketing director since January 2012; a UK executive board position reporting to the company's Managing Director.
Brownridge said: "This is a really exciting time to be involved with MINI and I'm looking forward to building on the tremendous work by Jochen and his team to further strengthen the position of the Mini brand in the UK."