News
CAP: don't underestimate the importance of geography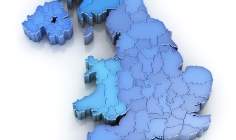 Geography played a strong part in the most sold cars in the UK in September, according to an analysis of almost 15,000 car valuations by CAP Automotive.
There was a three way split in the UK over what was the most popular marque to be valued by motorists, according to the company.
Vauxhall's were the most popular car for people to try and sell in Scotland, the Northeast, Yorkshire and the East Midlands, while East Anglia, the South, London and the West Midlands showed a penchant for BMW 3 Series valuations. Meanwhile Ford had a stronger representation in Wales, the West Midlands and Northern Ireland.
CAP said this was the first time it had seen such a regional divide being identified for those valuing their own car with a view to buying another and that it would be looking at whether this was a one off random statistical cluster or a trend in the future.

Philip Nothard, CAP retail and consumer specialist, said; "September was not just a record-breaking month for new car sales, it revealed a pattern among motorists looking to sell a car that frankly surprised us.
"For dealers this suggests that what they can expect to be offered in part-exchange will vary by region. And it might just be that anyone seeking the richest pickings among used car choice could do better by looking outside their own area instead of assuming used cars are evenly spread around the country."