News
CAP to Frankfurt: EV used values hurt by grants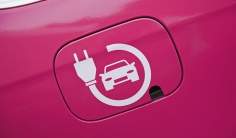 CAP Consulting, the advisory arm of the vehicle valuation firm, will tell attendees at the Frankfurt Motor Show the subsidies offered by governments on electric vehicles (EV) are hurting used values and may destabilise the future market for EVs.
CAP's conclusions are based on its study of the market performance of the Nissan Leaf – one of the first consumer retail EV models and currently available with battery leasing on an 'aggressive' PCP – across Germany, France, Italy and the UK.
The firm's report, Impact of government subsidies for electric vehicles on used market values, found a 'direct correlation' between the used market performance of EVs and the availability of government subsidies – such as the UK plug-in grant – to purchase them.

Values were stronger in Germany and Italy, where there are no grants, weaker in the UK, where there are grants, and weakest in France, which has the highest subsidy.
Electric bill
Mark Norman, author of the CAP report, said the removal of such subsidies was "inevitable" and threatened to expand the gap between new and used prices of EVs as depreciation accelerated.
"This is because the used value is now established in each market and when the subsidy is removed in the UK and France, the additional cost of a new vehicle will never be retained by a higher residual value," said Norman.
"As it stands, 12 month depreciation levels in the UK already amount to almost half the subsidised new price for a Nissan Leaf. Without the original £5,000 subsidy, total 12 months depreciation over the first year would amount to over £17,000."
Alternatively, CAP has suggested governments encourage EV take-up by offering preferential parking and removal of driving restrictions usually placed on petrol or diesel engines, and cited Norway as a market where this approach has worked.
In May, on the back of changes to the London Congestion Charge, car finance intermediary Car Loan 4U said it expected alternatively-fuelled vehicles to gain greater penetration in the capital.
richard.brown@timetric.com