News
CAP: Used prices stable after PCP part-ex influx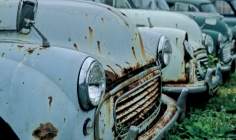 Values in the used car trade sector are stabilising, following last month's advice of a price decline, according to vehicle valuation firm CAP Automotive.
Although dealers are reporting "steady" demand in retail, many are still struggling to find quality used vehicles around three or four years of age, as reported by Black Book Live, the real-time valuation system launched by CAP in May 2012.
Also reported last month, CAP believes stock has been impacted by the lengthening of average fleet replacement cycles, meaning ex-fleet cars are coming to forecourts with more years in their tyres than before. Cars may therefore be in need of increasing refurbishment, as G3 Remarketing has noted.

The firm added prices were stabilising following the depreciation caused by the influx of part-exchange vehicles around the March new-plate registration surge, another knock-on effect of the popularity of PCP alongside the drop in fleet conversion rates reported by the Vehicle Remarketing Association.
richard.brown@timetric.com