News
CAP warns used values dropping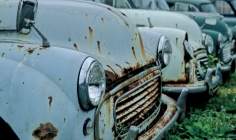 Vehicle valuation provider CAP has warned recent high prices for used vehicles are on the decline following an increase in vehicle stock availability.
The firm has, however, urged for calm as the "almost unnaturally stable" period of expensive second-hand motors looks to be ending, which CAP has attributed to the UK's appeal as a destination for new manufacturer stock, leading in turn to new car dealers taking an increased volume of part exchange in sales.
CAP also expects to see a short-term rise in stock from fleet and rental operators.

Fluctuating commentary
Measured by figures from British Car Auctions, used prices at auction have been sliding since December but are still far above those this time last year, or the year before. Away from auctions, however, CAP was reporting as recently as March that demand from overseas for retail quality second-hand cars was inflating values in the UK.
The changing market should present a relief to independent used dealers who recently demonstrated a decline in confidence according to CAP's monthly survey.
As far back as November 2011 CAP reported the squeeze on stock was seeing traders travelling further to secure quality second-hand vehicles. By this time last year, however, an increase in supply had brought down prices but, by August, caution among used car buyers and sellers had returned.
richard.brown@timetric.com