News
Close agent to finance Great Wall in Ireland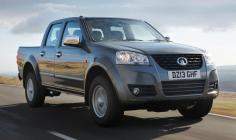 First Auto Finance has agreed to supply retail finance packages for new and used models from Chinese manufacturer Great Wall in the Irish market.
First Auto signed a joint venture with Close Motor Finance in early 2011 to act as its exclusive agent in Ireland.
Neville Matthews, managing director of Great Motors in Ireland, said the agreement would make the brand "even more affordable".

Great Wall has been manufacturing cars for 35 years and claims to be China's largest maker of pick-ups and SUVs. It launched in the UK in 2012 with the Steed pick-up with retail finance available through Great Wall Finance provided by Black Horse.
richard.brown@timetric.com