News
Close agrees motorcycle finance partnership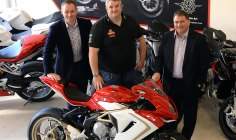 Close Motor Finance is to provide the finance for Italian motorcycle manufacturer, MV Agusta, after the two companies signed an exclusive partnership.
MV Agusta recently re-launched in the UK, and currently operates out of seven dealerships, but has intentions on further expansion over the next 12 months.
Mark Franklin, country manager for MV Agusta in the UK, said: "We will launch four new products in the next quarter, so this new alliance is great timing as we will have new financial packages in place to help dealers sell out of the 2014 range and get a head start on the 2015 models. Our products are aspirational, but pricing through Close Motor Finance makes them affordable so these financial packages are an extremely important commercial tool for our dealers."

He added that the company had approached a number of lenders about a possible partnership, but chose Close due to its dedicated motor cycle team.
Chris Reid, national motorcycle manager at Close Motor Finance, said: "MV Agusta is an exceptional brand at the leading edge of the sports bike market and we are very excited to be working with them. We are confident that our recently launched motorcycle division will ensure that they will benefit from the support, drive and focus that they need.