News
Close Motor Finance raises £25,000 for BEN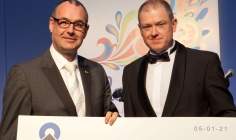 Motor trade charity BEN has been given a cheque for £25,000 after staff at Close Motor Finance raised the money to celebrate the finance company's 25th anniversary.
The money was raised throughout 2013 through the activities of staff within the UK motor finance company. Activities included chest waxes, dress down days, bike rides and bake sales. One of the activities was also a 25k walk.
Nigel Rothband, chief operating officer of BEN, said: "It's been fabulous to form such a great partnership with Close Motor Finance over the past year and long may it continue. We have a lot of exciting things planned with the money they have raised from the fundraising work they've done in 2013 with their staff and dealers. From everyone at BEN, thank you."

James Broadhead, managing director of Close Motor Finance, said: "I'm thankful to all our employees that have got behind the cause wholeheartedly. In particular, I would like to thank all of our dealer partners who have got involved in various ways throughout the year."